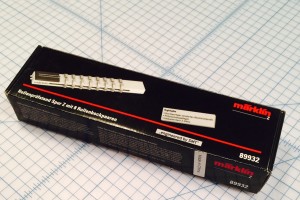 I am not sure when someone came up with the idea for the 1st model train roller stand, but I am sure it was someone who I would have enjoyed meeting. A simple and complex precision instrument, it has quickly become an essential tool.
Several good roller stands for z are on the market, but I am only going to cover the Marklin 89932 which I use, and I would heartily recommend. Not everyone will need a roller stand, it is primarily intended for testing and repair of locomotives, but Marklin mentions in their literature usage for display; it is good looking so I cannot refute this suggestion. Marklin released two roller stands this one and a smaller 4 pair roller #89931 each is delivered in a foam lined cardboard carton with instruction and standard Marklin plugs with two Marklin logos mounted on either side of track section.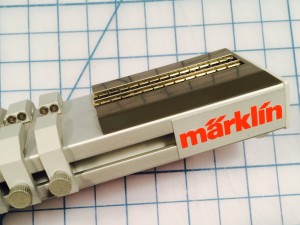 An accessory pair of rollers (#89933) can be purchased separately and added to either roller stand. Power is provided by two power terminals at one end, standard Marklin plugs are used as well as the Marklin mini club transformer.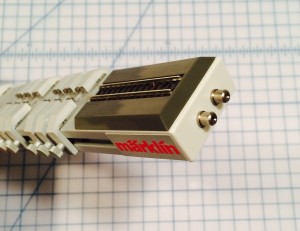 Stainless steel rollers are in pairs, train wheels each sit atop a pair of rollers.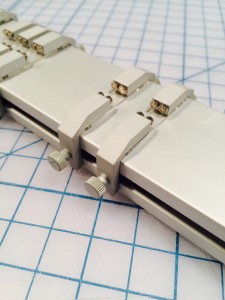 Two pair of rollers per section are adjusted by loosening and sliding. Note: electrical shorts and shocks are eliminated due to the installation of heavy acrylic under each section. The track section is intended for tenders.
Instructions for adding accessory roller pair #89933 is rather simple but care should be taken to put it back together in a specific way as will be outlined:
locate end opposite power end
gently wiggle off white plastic cap
slide white plastic sections out of channels on both sides
clear acrylic block sections are installed with the channel sections
fine holes are drilled through the top portion of acrylic block sections these go on top during reassembly, and metal electrified rods running length of channel fit these holes. Note: if the metal rods are not installed in the holes in the acrylic blocks the unit cannot be put together. *Do not force parts together risking damage, parts if they are correctly installed will go together easilly.
reassemble
*Stay tuned for roller stand in action coupled with the new steam locos with newly designed side rods.