Industry Prints are Marklin freight wagons designed and painted by private enterprises. Modellbahn Freund, St. Louis, MO imported and sold these cars, the plastic boxes for cars sold by Modellbahn Freund were affixed a label with this stores name and address. Sometimes collectors have suggested Modellbahn Freund commissioned these cars, and they were printed in the United States, this is a mistake; all 'Industry Prints' were printed in Germany by Baur-Druck Bad, Waldsee and sold by Schmidt, Germany. Cars were distributed in the United States and Germany. The earliest 'Industry Print' in this collection is a gondola from 1983.
Further research can be found at www.z-freunde.de, much of the information given in this post was kindly provided by this organization. *Information provided has been provided after much research, new details and corrections will be made as more is learned about these cars.
Click on pictures for larger views: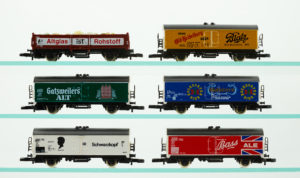 1. Altglas ist Rohstoff mit oder ohne Glasbeladung, gondola with load of glass for recycling, 1983
2. Old Heidelberg BEER  Blatz MILWAUKEE, WIS. (ocker), 1983 *color variations of this car exist in gold, silver and white
3. Gatzweilers Alt (Haus rechts), 1983
4. HOCHDORFER BIER Goldstern (blau), 1985
5. Schwarzkopf, 1986
6. Bass Ale, 1986 Distribution: Germany 40 and United States 140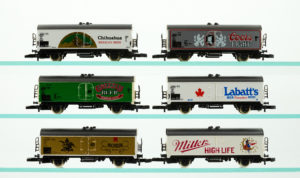 7. Chihuahua MEXICAN BEER (weib), 1986 Edition: 140
8. Coors Light, 1986
9. GRIZZLY BEER CANADIAN LAGER (grun), 1986
10. Labatt's BEER Canadian BIERE, 1986 Edition: 100
11. MICHELOB BEER, 1986 Edition: 125
12. Miller High Life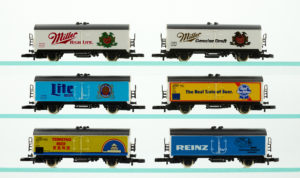 13. Miller HIGH LIFE
14. Miller Genuine Draft
15. Lite BEER A FINE PILSNER BEER
16. Pabst Blue Ribbon The Real Taste of Beer, 1986 Edition: 180
17. TSINGTAO BEER, 1986 Edition: 170
18. REINZ Dichtungs-Prazision weltweit, 1987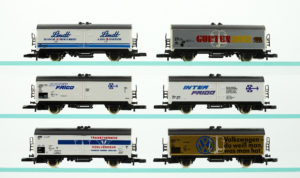 19. Lindt…IL GUSTO DI FAR PLACERE, 1987
20. GURTEN BIER (silber), 1988
21. INTERFRIGO mit oder ohne DB-Zeichen, 1988 Schmidt #116
22. INTER FRIGO Basel (weib), 1988
23. TRANSTHERMOS KUHL VERKEHR (weib), 1988
24. VW Volkswagen – da weib man, was man hat (gold), 1988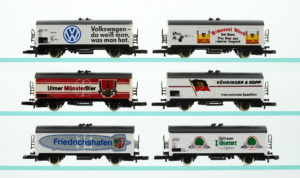 25. VW Volswagen – da weib man, was man hat (weib Emblem hell – oder dunkelblau), 1988
26. Worb Brauerei egger bier (weib), 1988
27. Ulmer MunsterBier (weibes Band), 1988
28. VOHRINGER & KOPP Internationale Spedition (weib), 1989
29. Friedrichshafen Zeppelin (silber – weib), 1992
30. Eichbaum Pilsener Eichkrone Seit 1679 (weib), 1996 Nicknamed "Corpse Beer," because the brewery is located next to a cemetery.