The container wagon 8615 has been in the Marklin line-up for many years. Marklin's earliest 8615 special imprint model was produced in 1979, it was lettered for Germany's largest malt roaster WEISSHEIMER MALZ with Koll's #79701 in the stated edition of 100. Lettering on this car is on the roof panel otherwise the car is unmarked and painted yellow. As a note of reference this car was not reproduced by the Koll's catalogs and this maybe this first photo posted of it online:
*Touch photos to enlarge!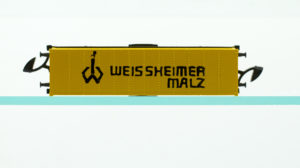 Other cars that followed were Kraft cars that were packed with unique packaging: illustrated cardboard sleeve with an inserted block of styrofoam containing the car and usually some type of track accessory. If you collected all the Kraft editions you would be able to assemble a small oval track with sidings. This includes the Kraft Editions with Marklin type 8615 printed by Marklin.
The order of chronology for the 8615 Kraft cars began with KRAFT Mayonnaise.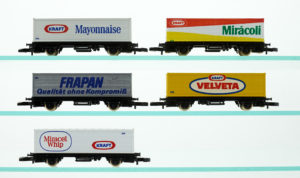 KRAFT Mayonnaise, Koll's #84701, edition: 500, released: 1984
KRAFT Miracoli, Koll's #84702, edition: 500, released: 1984
FRAPAN, Koll's #85701, edition: 500, released: 1985
KRAFT – VELVETA, Koll's #85702, edition: 500, released: 1985
KRAFT Miracel Whip, Koll's #85703, edition: 500, released: 1985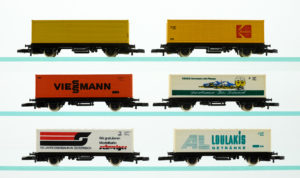 6. Weissheimer Malz, Koll's #79701, Miba/Monk #M-028, edition size: 100                                        7. Kodak, Koll's #85711, edition size: 500 *sold as part of starter set                                                   8. VIESSMANN, Koll's #86702, Miba/Monk #M-145, edition size: 100                                                    9. Privatbrauerei Their Dortmund, Koll's #87001, edition size: 200                                                    10. 150 Jahre Eisenbahn in Osterreich, Koll's #87502, edition size: 500                                             11. AL Loulakis, Koll's #87708, Miba/Monk #M-173, edition size: 300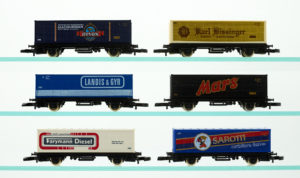 12. Bison, Koll's #87709, edition size: 500                                                                                                   13. Karl Bissinger, Koll's #87710, edition size: 100                                                                                   14. LANDIS & GYR, Koll's 87712, edition size: 200                                                                                     15. Mars, Koll's #87713, edition size: 800                                                                                                    16. Farymann Diesel, Koll's #87714, Miba/Monk #M-254, edition size: 200                                        17. SAROTTI, Koll's #87715, edition size: 300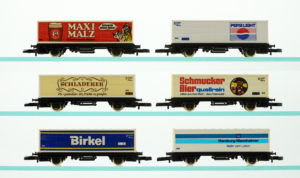 18. MAXI MALZ, Koll's #88001, edition size: 100                                                                                        19. PEPSI LIGHT, Koll's #88003, edition size: 100                                                                                       20. SCHLADERER, Koll's #88005, edition size: 100                                                                                     21. Schmucker Bier, Koll's #88007, edition size: 100                                                                               22. Birkel, Koll's #88711, edition size: 100                                                                                                  23. Hamburg-Mannheimer, Koll's #88715, Miba/Monk #M-266, edition size: 100
24. Hochtief, Koll's #88716, edition size: 100                                                                                            25. Philipp Holzmann, Koll's #88717, edition size: 100                                                                            26. Texas Instruments: TMS320C30 DSP – 33 Mio, rote Aufschr.                                                       Signale/Sekunde Electronica 88 (car features black text: "Texas                                                         Instruments"), Koll's #88720, edition size: 300                                                                                           27. Texas Instruments: TMS320C30 DSP – 33 Mio, rote Aufschr.                                                 Signale/Sekunde Electronica 88 (car features red text: "Texas                                                            Instruments"), Koll's #88721, edition size: 300                                                                                           28. SCHINDLER-CHEMIE, Koll's #88722, edition size: 100                                                                        29. Persil, Koll's #89701, edition size: 500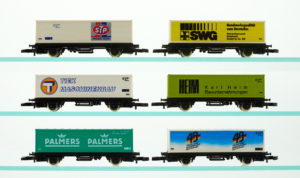 30. STP, Koll's #89703, edition size: 200                                                                                                       31. SWG, Koll's #89704, edition size: 200                                                                                                     32. TIEK MASCHINEBAU, Koll's #89707, Miba/Monk #M-382, edition size: 100                                  33. HEIM, Koll's #89712, edition size: 100                                                                                                   34. PALMERS, Koll's #89712, edition size: 500                                                                                            35. Vierzig Jahre Bundesrepublik Deutschland, Koll's #90709, edition size: 200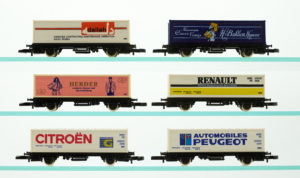 36. dallah, Koll's #90710, edition size: 100                                                                                                 37. H. Bahlsen Hannover, Koll's #90714, edition size: 500                                                                     38. Herder, Koll's #91704, edition size: 100                                                                                                *The following cars were sold in a three car set: The Automobile Companies                                  of France. Marklin #88126, Koll's #92706, edition size: 1000. Released 1992.                                     Distributed to Marklin dealers in the United States, Canada and France.                                             Individual cars are numbered with Miba/Monk reference numbers                                                      39. RENAULT, Miba/Monk #M-736                                                                                                               40. CITROEN, Miba/Monk #M-734                                                                                                                41. PEUGEOT, Miba/Monk #M-735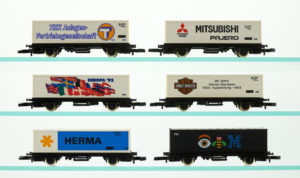 42. TIEK, Koll's #92707, Miba/Monk #M-669, edition size: 100                                                                43. MITSUBISHI PAJERO, Koll's #92710, edition size: 100                                                                        44. EUROPA '92, Koll's #92711, edition size: 200                                                                                       45. 90 Jahre Harley-Davidson: 1903-1993, Koll's #93706, edition size: 1000                                      46. HERMA, Koll's #94723, edition size: 100                                                                                               47. IBM (spelled using pictogram: 'eye' 'bee' 'M'), originally sold as part of starter set which included 'IBM' pin and tag along with loco and track. Marklin #8180 S, Koll's #95701, edition size: 300. *Featured on cover of "Koll's Spezial Katalog 1997."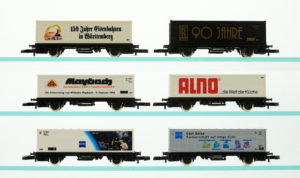 48. 150 Jahre Eisenbahnen in Wurttemberg, Koll's #95713, edition size: 1000                                49. Rolls Royce 90 Jahre, Koll's #95714, edition size: 600                                                                       50. Maybach Motonenbau…150 Geburtstag von Wilhelm Maybach, Koll's #96711, edition size: 1000                                                                                                                                                          51. ALNO die Welt der Kuche, Koll's #96712, edition size: 100                                                            52. Carl Zeiss, 150 Jahre, Marklin #8615.008, Miba/Monk #M-999                                                      53. Carl Zeiss, Partnerschaft auf lange Sicht, Marklin #8615.016, Koll's #96715, Miba/Monk #M-1007, edition size: 100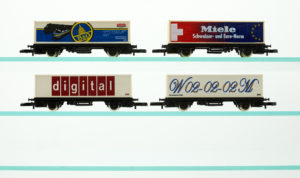 54. B&O Chartered 1827, Miba/Monk #M-1085, released 1997                                                             55. Miele, Miba/Monk #M-1188, released 1998                                                                                         56. digital, Marklin #8617.068, Miba/Monk #M-1279, released 1999, lettered with Digital Equipment Corporation's 1993 logo                                                                                                             57. W 02-02-02 M, Marklin #8617.103, Miba/Monk #M-1490, released 2002, car celebrates the 2002 wedding of Prince Alexander and Princess Maxima of Holland