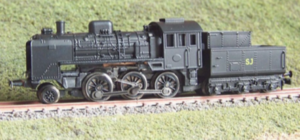 Not long ago I posted about FR's recent release of the class L5 steam loco for SJ, it is a build kit, and I just received mine today! The kit is a well designed precision kit, it provides a rarity for Z modeling.
The kit comes packaged in a plastic container with numerous parts enclosed along with visual instructions. It is a kit that requires a Marklin 8801, 88956 or 8803 for motive power along with modification of the side rods and painting the wheels black. The cylinders were placed within the locomotive chassis in the prototype thus the cylinders are removed for this model.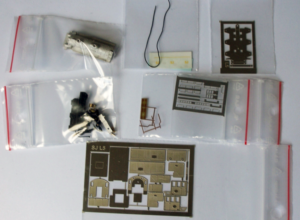 Note: Marklin tender is not required for this kit which provides the correct prototypical tender for the loco.
For those experienced with building rolling stock in Z or working with nickel silver this kit is self explanatory, but for the inexperienced modeler this kit should not be the first. Accumulating some experience with building etched metal buildings should probably come first for new modelers: gaining soldering experience with bigger parts first will be invaluable for assembling the small parts in this kit. I am in the process of learning to do these kits starting first with the excellent non powered Behnke kits offered by Scandinavian Galleries Quality Toys. Behnke kits do not provide instructions and careful interpretation is required to fully understand how they go together, but they are excellent kits that combine gluing, soldering and bending of small nickel silver parts; they provide a good place to start before tackling the very interesting L5 kit.
The packaging of the L5 kit separates parts according to their purpose instead of throwing everything together thus taking care of the guesswork. The beautifully cast metal boiler and cast plastic tender trucks are included with etched nickel and add-on parts such as the buffers which are brass. The tender also includes a tiny circuit board to allow it to pick-up power with its three axles.
Note: The age old technique of picking up additional power from the tender's wheelsets is a very effective way to increase performance of small steam locos through turnouts and the like!
Some of the add-on parts are super tiny so I highly recommend a very fine tip soldering iron as well as 5 minute epoxy which work hand in hand on models. Until I build this kit I won't exercise a preference for using glue over solder and vice versa for specific steps, suffice to say solder will be used more.
Paint finish will be applied with airbrush and water based paint followed by decals provided.  A finish coat of clear water based acrylic is always required otherwise the finish and decals would wear.
The kit is FR Item #46.140.91, it is currently available.
What you need to complete the locomotive: 1. Marklin 8801, 88956, or 8803 2. water based paint best suited for airbrushing 3. patience 4. time 5. soldering iron and/or 5 minute epoxy 6. tweezers 7. Xacto blade for cutting parts from sheet 8. time 9. patience 10. magnifying binoculars
Be the first kid on the block to own an L5 SJ steam locomotive in Z!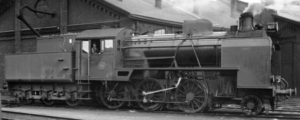 Stayed tuned for my future post on the completed L5 along with some tips on building the kit.