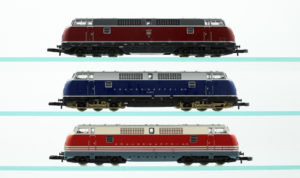 from top – side 1:
Marklin 88300: V300 Diesel Hydraulic Loco, Insider Model 2009
Marklin 88301: ML 2200 C'C' experimental loco, builder: Krauss-Maffei, 1957 paint scheme
Marklin 88302: ML 3000 C'C' factory paint scheme after 1957-1958 rebuild
side 2: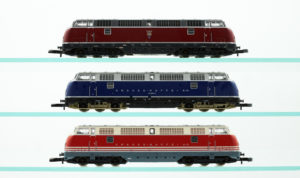 Collecting Marklin Z is bigger than acquiring model trains, it is a collaboration with Marklin: preserving the history of trains. Every collector of trains in all scales is participating in train history simply by collecting model trains, books and ephemera. Our passion for trains is passed on to the next generation, thus block by block trains are well documented and understood thanks to model train manufacturers and their collectors.
Historical preservation is at the heart of some Marklin Z releases including the experimental locomotives: ML 2200 and ML 3000.
The German locomotive maker Krauss-Maffei produced a variant of the 4 axle V200 locomotive in the 1950's for the Yugoslav Railroad with lower axle loads and improved air conditioning thus the 6 axle ML 2200 was born. Delivery of three ML 2200 locomotives 1.77 meters longer than the V200 took place in Belgrade May 27, 1957. Marklin's One Time Series 88301 is a model of the ML 2200 prototype.
The ML 3000 represents a rebuilt ML 2200 with increased power and improved transmission. The failure of negotiations to secure an order for ML 3000's with the DB ended any potential success this locomotive would have for load restricted routes in Germany, the surviving prototype was used in Bavaria before it was leased in 1963 and later purchased by the DB. Marklin #88302 is modeled on the ML 3000 prototype.
In 1963 the DB leased the ML 3000, it was reclassified V300. The locomotive was repainted with the DB color scheme otherwise unchanged. In 1964 the DB purchased the V300, it was used in express and freight service. The service life of the V300 lasted roughly 17 years before it was scrapped. Marklin model #88300 represents the V300, it was a limited production release for Insider members.
As a point of comparison there were 4 total locomotives produced of the ML 2200/ ML 3000/ V300 variants and 86 total locomotives produced of the V200. Maybe the V300 would have been more successful than the V200 if negotiations with the DB had not failed to secure an order for them.