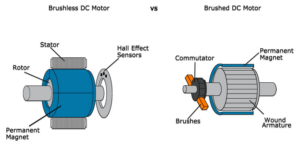 This isn't the first, and it won't be last post commenting on the new motors for Marklin Z. With progress comes nervousness and apprehension about the future, and the new Marklin motors for Z are one such progression.
Oiling the wheel sets and keeping the wheels clean is all that is required for maintaining these new motors and locos. The new generation of Marklin Z includes numerous new item releases, re-tooling of older designs, greater detail of running gears, pantograph screws moved to the inside of electric locos, and new propulsion. In some cases the new propulsion replaces 3 and 5 pole motors used in older well known locos, and other newly tooled locos are designed with the new motor types. Brushless motors have been used by numerous manufacturers of Z with excellent results including FR, Z-Modellbau and Archistories.
My open question: Should Marklin start using this new technology? On the one hand the 5 pole was a very positive replacement for the 3 pole: quieter with smoother running performance, but the brushless motors are supposed to be even more quiet and smoother with lower idling speeds. There is more maintenance with the 3 and 5 pole including replacing brushes and unlocking transmission and running gears when oil hardens from prolonged storage. Everything seems to support this new advancement, but for some maybe not. The traditional motor is strong and durable winning the Guinness World Record for continuous running: 1219 hours in 1978. If it isn't broke why fix it? Which takes me to the impetus for this post and my personal experience with the new steam loco 88974 featuring the new motor. Inexplicably this loco stops dead in its tracks on a clean oval test track after running well for a few minutes, it will resume running in the opposite direction before returning to running forward until it stops again. Problem solving with the traditional motor is easy with the new one it is more elusive. Possibly more precision is required to align the new motor and gearing owing to the precision hand assembly at FR and Z-Modellbau and their mastery with this new type of motor? Collectors of Marklin Z are in the early stages of acquiring Marklin locos with the new motor and maybe this is simply the "learning curve" phase.
Side by side comparison of the same class loco (new and old) shows the adaptation of the new motor in an older mini-club loco type. Locomotive Serie 231 Pacific lettered for SNCF from Orient Express set 8108 (1988-1997 released with 3 pole motor which can upgrade to 5 pole) photo: top shelf and Class S 3/6 lettered for K.Bay.Sts.B (One Time Series 2015 New Releases with current brushless 5 pole motor) photo: bottom shelf.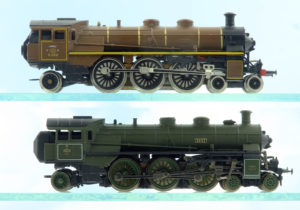 Note: larger physical presence of new motor extending outside the cab than the older brush motor.
Siding: Google brushless motors for detailed description versus brush motors and share your insights with me, I would enjoy adding to my understanding and education with this new technology. Cheers to Marklin for the continuing evolution of Z gauge.