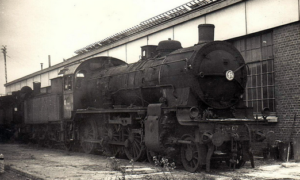 Photo: Former Prussian P8 given as war reparation to SNCF following WWI.
Marklin reached back into German railroading history and realized the legendary P8 and BR 38 in 'Z'. Note: before unification it was the P8 and after unification it was BR 38. In the Marklin line-up there are plenty of variations of the P8 and 38 steam locomotives but the tooling remained the same until the side rods and brake equipment were upgraded with the 2013 release of 88998.
So what about the history of this 4-6-0 locomotive? Nearly 4000 examples were manufactured for 18 years starting in 1908. Retirement came in 1974 after a 50 year career with 627 having been given to other countries as war reparations following WWI. Its top speed of 110km/hr was suitable for passenger trains, but it was a reliable goods train also. In my research the top speed of 110km/hr was never fully achieved in the Prussian examples due to poor running performance of the Prussian 'box' style tenders instead it would seem that 100km/hr was the top speed in the early years. It is noted that larger tenders were not used by KPEV due to the burdens of turning a longer loco and tender on turntables of the time. Eventually the DB fitted war time 'tub' style tenders to this locomotive class after WWII.
8899 is the first BR 38 produced in mini-club, 1982 to be exact. This Era III BR 38 for the DB featured the original Prussian 'box' style tender and 3 pole motor, it was produced until 1995. The large smoke deflectors would eventually be replaced with smaller 'Witte' deflectors.
88991 (photo) is virtually identical to 8899 with two notable exceptions: 5 pole motor and post-war 'tub' style tender. This locomotive was produced from 1998 until 2003.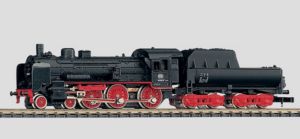 The P8 painted and lettered for KPEV (Royal Prussian Railroad Administration) as a One Time Series was 88994 (photo). Released in 2006 as part of the MHI program the 88994 represents an Era I P8 with original Prussian 'box' style tender. KPEV locos in the Marklin line-up are heavily detailed with distinctive paint scheme, they can go with passenger or freight cars, or both.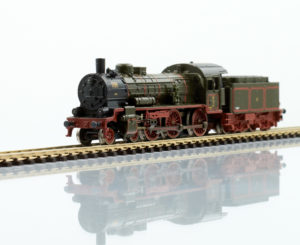 Jumping ahead to the new era at Marklin is the 88998 (photo) BR 38 for DB. An Era III steam locomotive featuring Marklin new design concept that includes lively side rod action and detailing including well conceived brake equipment details. The movement of the side rods on this loco are elegant! Note the correct style tender for Era III and 'Witte' smoke deflectors. First retooling since 1982!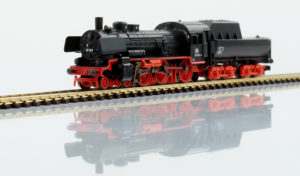 Rolling back the clock to 2009 is the 88999 (photo) P8 for Gr.Bad.Sts.E. (Grand Ducal Baden State Railways). This Era I locomotive was in the Marklin mini-club line-up from 2009-2014. Original Prussian box style tender and 5 pole motor. Paint and lettering in Prussian Blue with boiler straps painted to highlight the prototypes original brass ones. Note: no smoke deflector was incorporated in the early design of the P8, other design changes would happen over time including two types of smoke deflectors and tub style WWII welded tender.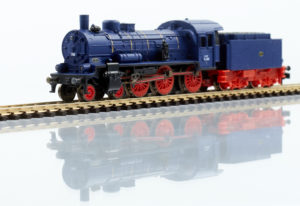 Marklin's first release of a P8 in a train set was 8130 from 1989 – 1992, the 8128 (photo) included an Era I KPEV loco and tender paired with four freight cars.

The Marklin 81420 (photo) Grand Ducal Baden State Railways train set from 2000 – 2002 included a Gr.Bad.Sts.E P8 in striking Prussian Blue paint scheme detailed with brass boiler straps, it was boxed with a 2nd class and a 3rd class coach as well as a privately owned Swiss tank car and beer car with brakeman's cabin. Locomotive is equipped with Marklin 5 pole motor.

The 2002 One Time Release of "Sylt Auto Travel Train" 81428 (photo) was another example of a train set with mixed rolling stock, freight and passenger coaches comprising the consist. This train set from Era III included a DB BR 38 with 'tub' style tender, 2- coaches lettered for "Hamburg – Altona, Husum – Niebull, Westerland plus 4 low side cars with autos, camping trailers and vans as loads. An interesting train set for vacationers traveling to camping destinations, this train removed the inconvenience of driving a camping rig to the vacation spot thereby delivering rested passengers at the start of their leisure vacations. Note: first time Witte smoke deflectors used on this 'Z' loco type.

The Era II "Ruhr-Schnellverkehr" (Ruhr Express Service) train set 81437 (photo) was released in 2005, it was produced until 2008, but it is unlikely many were produced through this period owing to the rarity of this set. The BR 38 locomotive was joined in the set with three coaches of Prussian design: 2- 3rd class coaches with and without brakeman's cab, and 1- 2nd/3rd class coach with brakeman's cab (notice the colorful paint scheme on center compartments denoting 2nd class). Please take note of the Prussian design compartments each accessed by exterior doors, in express coaches of this design passengers had little time to find their compartment and climb in, less than a minute is all you were given! The Marklin coaches in this set are stunning, they are full of detail including full length running boards and decorated brass hardware. The locomotive (photo 2) also featured destination boards: Ruhr – Schnellverkehr.
Siding: to describe the brilliant running performance of this loco type in 'Z' as anything less than superlative would be a mistake. If you are new to collecting Marklin Z steam this loco type in any example is highly recommended: perfection on the rails!