German railway history began in 1835, but Z-scale modeling includes few examples from manufacturers before 1910 leading up to WWI with the exception of Railex Modelleisenbahn GmbH. The obvious reason would seem to be further complexities of manufacturing even smaller steam locos than those proposed and manufactured by Marklin since 1972. Current can motors of small sizes could offer the future possibility of 19th century locos with their own propulsion, but time will tell if such things are in the ether!
Railex is widely known and unknown too! I have been collecting Railex primarily from the secondary market, I started collecting it late, but if I had collected early I am not sure any would have been available in the United States; I have spoken with many dealers here who never sold Railex maybe due to poor availability and small market for this avenue of Z railroading. Railex has its limited audience who have an audacity for things unique and exemplary. And pricey! Mechanically sound but without a motor is a hard justification for many a railroader's budget, but leaving practicality aside eccentrics like myself pour over the fine detailing, mechanical perfection and splendor of these tiny trains. And yet there are methods for enabling these motor-less locos the respectability they deserve for each can be equipped with a "ghost loco" or modern diesel to bring them to life. Such justification for propping a Railex with modern equipment can be argued if you include a museum railway on your layout or you feel the "railway record" includes all trains and it is just a matter of appreciation versus historical/prototypical fact?
I have gone way off my topic here even before starting, such is the case with me and Railex. There are several gaps in 'Z' for coaches, we all wish Marklin would make coaches for our beloved Commodore Vanderbilt or EWII coaches for SBB as an addition to the really good coach sets made available over the years. As for the 19th century Railex is the only answer with their Wurttemberg Set.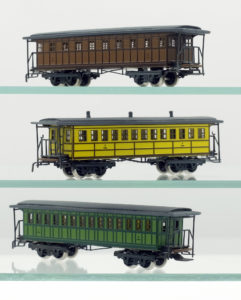 The release date for this coach set is unknown to me, it was released as a set of three in a clear plastic box with paper label with the following inscription: "Kassette NUR LIEGEND offnen! ———-OBEN———— "Wurttemberger Zug" Set 1 (Z) -Railex Modelleisenbahn GmbH.
Included in the set are three coaches for the Wurttemberg Railway K.W.St.E.: 1-3rd class (brown), 1-2nd class (yellow with roof venting) , and 1-1st class (green with window details including curtains). It is easy to deduce classification for these coaches simply by exterior coach appearance.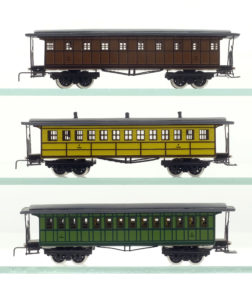 Manufactured entirely of brass with filigree wheel spokes, fine detailing and precision painted surfaces the coaches also carry the Railex insignia on underside. There is the obvious heft to these cars that is quite noticeable in comparison to plastic but to be expected from all metal construction. The trucks alone are works of art with filigree wheels closely paired within the finely detailed truck housing.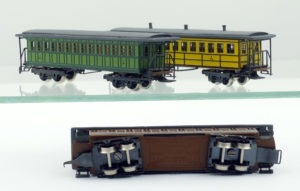 Rail travel in the 19th century was a new delight with its own challenges including safety and comfort. One could imagine wooden bench seats in these coaches, no steam or electric heating perhaps blankets over laps, and maybe pinch gas lighting if night travel occurred.
Siding: European railroad antiques can be found here and there even in the United States due in large part to a long time interest for European trains. A 'Z' collection can be supplanted with railway badges, lanterns and loco plaques to name just a few. This Wurttemberg railway badge was found in late 2016 on Ebay: