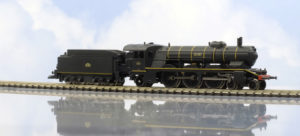 The 2008 mini-club release of an Era II French State Railways (ETAT) class 231 express locomotive was included with trainset 81080 ("International Long-Distance Express Train") which also included 4 coaches and a baggage car painted and lettered for International Sleeping Car and Dining Car Company (CIWL).
The operating number for this locomotive (231-997) indicates it was originally a class C Wurttemberg with 4-6-2 wheel arrangement. Following WW1 three class C's were given to France with operating numbers 231-997, 231-998 and 231-999 assigned by Chemins de Fer de l'Etat. In service until 1937 all three locomotives were destroyed by bombing in 1944, Marklin's 81080 locomotive preserves the prototype of the class 231-997.
The model is beautifully painted and lettered with hand-painted bands. Excellent weight and 5 pole motor make this a locomotive with very good running performance even at slow speeds.