If you are lucky enough to find an older Marklin Z loco in 'new' condition chances are likely it has HOS (hardened oil syndrome). It is a great day when a collector grade loco released years ago becomes available, but restoring it to running condition is to be expected. The Marklin 8829 electric locomotive has a number of parts and unique properties. Original equipment for the 8829 was the three pole motor 261920 with brushes 8988. The brushes are installed directly mounted to the circuit board and secured by clips, all 3 pole railbuses use the same brushes plus several other locomotives. The 5 pole motor for this loco is the 211901, but finding one could prove quite difficult, Walthers lists it as "sold out" and unavailable. But I don't think much is gained with the motor upgrade in this case, I just completely cleaned one, and its noise level is quite low with slow idling.
For repair of this style locomotive of which there are several including 8849 and 8850 you will need a little more patience than others due to the increased number of parts under the hood.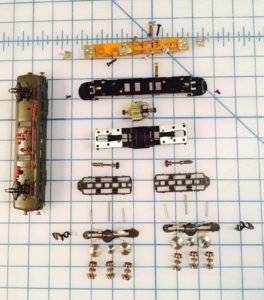 Total: 38 chassis and running parts
Oil during assembly very sparingly with a plastic compatible oil for 'Z' gauge, I use Labelle 108 which is plastic compatible thin synthetic oil that will not harden.
Trucks of this loco require special care, each incorporates 3 geared wheelsets, 3 gears and 2 pins; most locos use one retaining pin per truck. Steps for assembling the trucks follow these three steps: 1. locate short pins and assemble large gear in truck frame with retaining pin (repeat for 2 large truck gears and 1 short retaining pin) 2. pinch together electrical pick-ups and place geared wheelset for each and 3rd one in middle of truck 3. carefully place coupler and spring in place and attach truck side frame securing it with countersink screw (each truck goes together with a screw on one end after being clipped on the other)
Motor, chassis and circuit board go together similar to all other Marklin z locomotives with one special note: the transmission gearing (there are two) need a little extra pushing into place, the bushings fit more snugly than with other locos, check to make sure all gears move freely with motor before attaching plastic insulator/circuit board frame, do not over tighten this part. Attach circuit board with care to avoid cracking it. At this point the brushes are installed, run a couple of leads to the brushes to double check motor moves freely when powered. Next attach trucks securing them in place with the 2 long retaining pins.