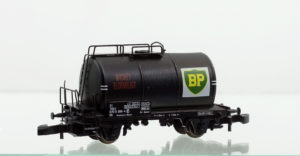 Ever wonder how many Marklin MSI's have been produced? I have and one extraordinary collector has them all, his audacity in acquiring them is an achievement in itself winning him the Guinness Book of World Records for the feat in 2006, his name is Gilles Monk of Belgium.
One relatively obscure Marklin Special Imprint is a tank car lettered for BP and used on the SJ: type 8612 mini-club tank car lettered for BP Svenska released in 1989 with Koll's #89717 and Miba/Monk #423 released in an edition of 200.
Here the 1989 MSI tank car (top) is paired with a superb repainting and lettering for BP/SJ by FR with item number 46.396.01 and produced in a total edition of 35 with black paint scheme.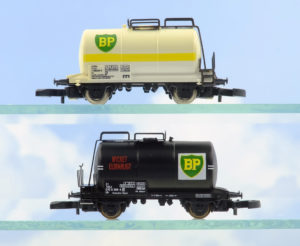 This is a reworked Marklin mini-club tank car that is infrequently offered by FR to round out various types of Scandinavian rolling stock. Reworked and repainted includes newly designed and richly detailed metal add-on parts (more intricate than the original) and complete removal of original paint and lettering. This type of production is labor intensive from research to final car thus making these releases attractive historically, and small batch release makes them ever more collectible.