A new building kit for 2016 was Faller's 282704. The prototype for this station kit was built in 1915, it features a Mansard roof and timber goods shed with covered loading dock. Today the station serves as Sauerland Local Railway Museum.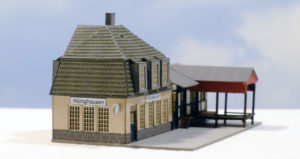 The building kit is a combination of materials including laser cut real wood and cardstock. It is a very good kit of an interesting historic railway architecture. The challenges for this kit are the complexity of assembling the main building with its various roof surfaces. Faller kits feature window masks to add realism when lit, the window details in this kit are limited diffusion materials. All in all a very good kit for those with experience assembling laser cut buildings in Z.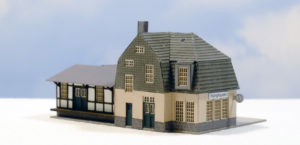 All sorts of interesting detailing can be applied including shipping products that can be stacked on the dock and ready for the next train.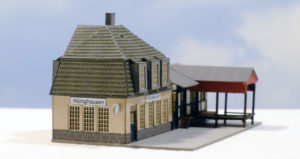 Lighting buildings these days has progressed to a great extent with the advent of LED, and Woodlands Scenics offers the solution with their Just Plug Lighting System. Before LED's only a very bright and hot light bulb would illuminate the masking material of Faller buildings. Now with LED's it is solved with bright LED's that can be dimmed according to your preference. Add the long life (10,000 hours) and reasonable pricing lighting buildings in Z is now possible.