This is the 3rd and final post on the repainting and lettering of the Marklin Dompfeil train set (8135) for the SJ.
Before (Marklin 8135):

After (SJ coaches using FR decal set):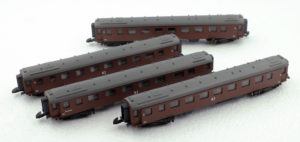 At the start of this project I had never repainted a train car before or operated an airbrush thus much was learned.
SJ coaches in z scale have been extremely limited, FR released a type litt AB8k 1st and 2nd class in a single release of 30 only, FR 46.299.00 was based on a German built coach that was used on a ferry service. In order to accurately represent this coach FR modified a Marklin coach that was shortened by one window.
photo: FR 46.299.00 (edition: 30 total) – SJ type litt AB8k 1st and 2nd class coach

For those interested in SJ modeling in z there are numerous locos and freight cars by FR, but scant few passenger coaches until FR released a decal set several years ago intended for the Marklin 8135 coaches, these German built coaches for the Dompfeil train set were likewise used on the SJ.
The process of producing a set of 4 coaches started with disassembly of the coaches followed by stripping, in this post the final stages are documented including masking, painting, and lettering.
Identifying the sections to paint include the undercarriage, sides, and roof. The roof is a clip on part, it does not require masking unlike the shells. Painting two colors of the same part requires masking, I decided to start with the undercarriage and vestibules color, I sprayed the entire shells with this color with no masking.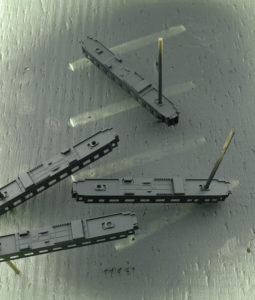 Before applying the brown paint I masked off the vestibules and undercarriage. The masking material is similar to common masking tape, but it is markedly thinner with a slick surface, it also comes in a variety of widths. I chose masking tape of 6mm width manufactured by Tamiya.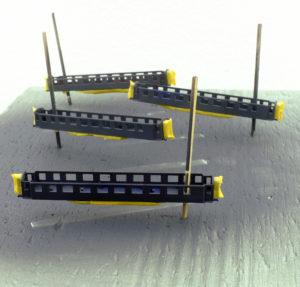 After paint is dried the masking tape is removed, for areas not protected by masking retouching maybe required, I chose to paint the buffers with a brush as the final stage of painting, masking these seemed an impossible task and fine brush work produced great results.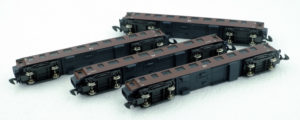 The FR decals in the set are applied by rubbing onto the cars, they differ from other decals that are applied with water. The decals provided had alignment marks to make positioning easy, my burnishing tool was an artists' burnishing bone, but a soft tipped lead pencil should work fine.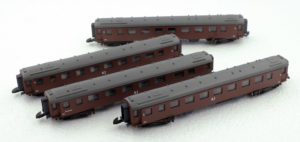 After decals are applied a final coat of clear lacquer is sprayed on to protect the finish and decals. And reassembly follows as the last step.
Notes on airbrushing: I purchased an Iwata Neo airbrush with an Iwata braided hose for just over $100. Several airbrush air compressors were available from the store I purchased the airbrush from with prices ranging in the $220-$300 range, I chose to use a Porter Cable pancake compressor I use for air tools. A fitting is available to connect the braided airbrush hose to this type of compressor for a few bucks. The only difference between an air tool compressor and a specialty airbrush compressor is one of noise, the airbrush compressor is very quiet while hearing protection is required with the pancake compressor. PSI (pressure per square inch) is a determined by testing on a piece of paper, I set the compressor gauge to 20 PSI which worked perfectly, others I researched recommend 15-20 PSI. Air brushes require cleaning after painting, cleaners are available or water can be used for acrylic paints. When the spray is clear the nozzle is clean, other parts should be cleaned as well. A cleaner between paint colors is also required.
Notes on paint: the consistency of paint should be the same as skim milk, most paints may require thinning with water to gain this consistency. I used Testors acrylic paints that I mixed to customize the color, they are railroad based colors that did not require any thinning. The clear coat I used is made by Iwata, it was the consistency of white glue and required thinning to spray. Acrylic paints dry quickly and can be layered on layer without skinning as can be the case with enamels or the combination of the two. The very best results will be achieved with 100% acrylic paints. Careful attention should be applied in mixing paints for airbrushing, straining maybe required to avoid clogs and poor paint results. For safety use a mask and gloves.
Notes on applying decals: as with much detail work careful consideration applies to attaching decals, they are transferred from a sheet to the model with burnishing tools. Best results are achieved with a level flat object, I use a specialty artists' burnishing bone. Pointy tools will not work! Acrylic paints should be allowed to dry overnight to provide a hard surface for decal work. And very delicate handling until final spray coat of lacquer. I used clear lacquer with a satin finish which is consistent with Marklin's coach finishes.
For close to two years I had the decal set and a second Marklin 8135 for this project, but I was reluctant to start due to lack of expertise. Plus I was apprehensive to strip the paint of mint Marklin coaches: after stripping there was no going back. I discovered that air brushing is easier than I thought producing a superior paint finish. Now I feel the airbrush is as important to the railroader as the soldering iron. Future uses for this new tool include weathering track, cars and locos.
Good luck and have fun!
Siding: FR's Ra 987 electric locomotive is a compatible loco for this coach set, it is based on the prototype from the mid 1950's:  FR 46.132.01 was produced in a limited series of 32 total, it is still available from quality-toys-trains on Ebay.