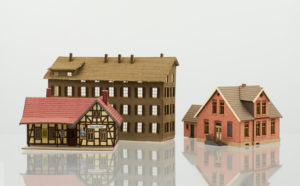 A number of manufacturers offer laser-cut building kits here in the United States and abroad. Three German manufacturers are of particular interest due to their extensive line-up and varying design themes: Archistories, Faller, and MBZ. And their complementary European architecture suitable for German trains. I did not include Marklin's fine laser-cut buildings because they do not offer anything as of yet in this price range. And some of their more modest size building kits come with freight car sets.
First I am a big big fan of Archistories thus a particular prejudice for these buildings need to be admitted to, but I want to compare options from these manufacturers that may make suitable companions in a town of your design.
I offer a simple comparison of one building by each manufacturer similarly priced, I purchased all three in the United States in price range $45 each. Archistories "Frye Railway House" purchased from ZScaleMonster.com (official USA distributor and also available from ZScaleHobo.com), Faller's "Osterode-Sud Wayside Station" purchased through my local Marklin dealer by way of Walthers, and MBZ's "2 Dimensional Building Kit" purchased through Reynauld's (MBZ's official USA distributor).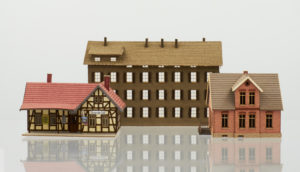 All three manufacturers offer something the others do not owing to each brand's consistancy. For Archistories is a range of railway buildings including roundhouse, loco sheds, stations, water towers, and even operating grist mill and windmill all based on historically accurate examples. Faller is now offering townhouses, but they have released several small train stations, barn, and lumber mill. MBZ offers numerous railway buildings and rural buildings including barns and houses.
Innovations are hallmarks of Archistories and Faller, Archistories buildings include partition walls allowing for lighting specific rooms of there "Frye" house while Faller continues to use window masking with curtain detailing that is quite good (new LED technology makes lighting these masks much more possible). Faller also designs their open timber buildings (4 so far) with timber framework and individual inserts for stucco which give a very accurate prototypical look. MBZ offers excellent stone and masonry bridges for small rural settings that complement the rural structures of other manufacturers including their own.
Laser-cut is better than plastic with prototypical materials translated quite well into the matte cardstock of laser-cut. Precision engineering is also possible with laser-cut, thinner materials with fine detail etching creates the closest thing possible to the prototypes in Z, plastic is thick and chunky, its gloss distracting without painting intervention.
All three buildings could go on the same layout, each is accurately scaled. And in 'Z' many more buildings can be included on a layout in a given amount of space than any other scale, several towns can be realized with rural highlights connecting them.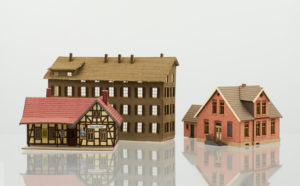 A simple description of a building is often tied to construction value here it is most evident. Archistories buildings across their line-up are precision kits of the highest value with sharply delineated details at the corners, windows, and seamless marriage of materials. Faller likewise produces precision kits with realistically tinted materials and wooden features including doors and posts. MBZ is a less precise building kit bordering on primitive, their buildings are uniformly tinted so painting is necessary by the modeler, parts can arrive torn, parts are usually warped requiring extra attention to remove, and the materials have to be prepped before assembly to remove carbon dust generated by the laser-cutting that would otherwise impede gluing.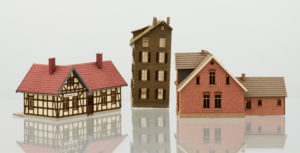 Instructions and constructions: Archistories instructions are the very best in the industry with no real comparison with any other manufacturer, if you follow the instructions in order you are assured of success: perfect corners and seamless roof. Faller's buildings come together much in the same way as Archistories starting with a framework structure followed by exterior panels and detail work. Faller's instructions are mostly excellent, I have assembled all of their laser-cut buildings and found that their roofs do not come together nearly as well as Archistories, a little gap is always found in the finished building. Roofing gaps are not possible with Archistories buildings unless a mistake was made during assembly. MBZ is another matter, their instructions are minimal, but so are the buildings which are simple glued constructions of floor, sides and roof. Just the roof is treated to an underlay making these kits a little more flimsy than I would like and no window masks or partition walls, chimneys are simple affairs with this MBZ kit and dormer windows are not possible to fully expose. The shutters are a nice touch with this kit, but foundation masonry is missing in the design along with a door. This kit is also described as a 2 dimensional building so it is also missing a back wall. The paper used for this MBZ kit is a lightweight cardboard that had the faint odor of having been burned, and the acetate had to also be cleaned of carbon. It sounds like a lot of criticisms for MBZ and maybe not!?! MBZ is producing kits based on prototypes of a certain age, and the reality of these prototypes may be accurately portrayed by these kits based on design but also materials. Well what do I mean by this? MBZ kits have a softer look to them than the other two manufacturers partly owed to the heavy laser etching and cardboard which may translate the time worn nature of these buildings much better than any other material.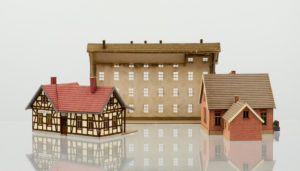 Availability is a non issue with Archistories (ZScaleMonster.com and ZScaleHobo.com), they are always available through these dealers. Faller seems to produce their laser-cuts in a limited number so buy'em when you see them available at Walthers or better yet preorder them from your local dealer if you have one, if not order from an on-line retailer. MBZ is available from their USA dealer Reynauld's in Elburn, IL, but their available inventory can be quite limited and back orders can take months from what I have heard. EuroTrains in Canada publishes an accurate inventory on their website which can be helpful.
In closing, each manufacturer discussed is making consider contributions to Z, but each in their own unique way: Archistories creates buildings the closer to real-life than the other two, Faller creates buildings with the traditional open timber construction using real timber framework and stucco inserts, and MBZ creates buildings that have endured the test of time.