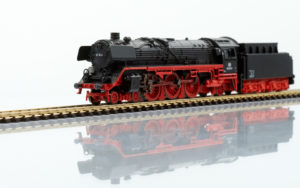 Photos: Marklin 88010 "2012 Insider Model" class 01 express locomotive of the DB.
Reaching back a few years (very few years 2012) to the Insider Model of 2012 is the 88010 a superlative locomotive not only for German railroad history but also mini-club history. On its release mini-club collectors for the first time received an important German express locomotive modeled in 1:220 with detailed running gear and working side rods of an advanced state of design. "How did they do it? How could they do it?" were at least two of the questions that swirled in the 'Z' community. But then something truly remarkable happened Marklin advanced these design skills to each of the steam locomotive class in subsequent years. But wait they simultaneously applied the same design skills and inspiration to the diesel and electric locomotive classes. Long time collectors of Marklin Z could not have anticipated the advancements to this rarified hobby, but here we are on the other side of what many of us thought was impossible. What a great and lovely time to be part of the "mini-club" Club!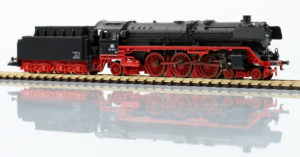 As the models come closer to the prototypes those reasons for not going 'Z' become evermore present: reality modeled in Marklin Z achieved at the smallest scale without compromising the prototype. Sure it is charming and fun to collect larger scales that are modeled to move freely on a layout with all the functions you would expect, but trains of other scales as we go up in size require sensitivity to length and size in order to work flawlessly with the radius curves, turnouts and special features. Z scalers appreciate those concerns are mere fodder for this scale, as such we enjoy unprecedented freedom to explore large layouts that might include multiple towns modeled with accurately represented trains in the same space a larger scale might only include a few buildings with an oval layout maybe on a 4'x8′ board. Z is limitless and the potential to build and design a large layout is not out of reach of most railroaders even those living in a small apartment in Manhattan: 1 foot of track length equals 220 feet of prototypical track length, at 6 feet we are approaching a 1/4 mile. Add a complete loop and a radius we are close to a mile. But many 'Z'ers I have met over the years don't limit their layout dimensions to the traditional 4×8, they have no rules. Taking over a room in a house might be a man cave to some but for others it is peace of mind for many wives and partners, but Marklin mini-club is not limited to men only it is a hobby enjoyed by women as well. What better way to spend a Saturday afternoon than reading a book on railroading, designing the ultimate layout, building a beautiful Archistories laser cut building, or cleaning and maintaining your layout and collection. The ultimate railroading experience is 'Z', this scale overtakes the senses as it has since 1972 and many of us 'Z'ers are among the happiest people alive: cheers Marklin!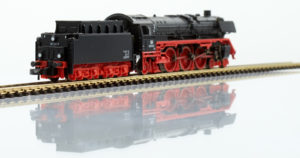 Siding: join the Insider Club with benefits that include the Marklin Magazin, Insider Magazine, free club car in the gauge of your choice and invitation to own Insider locos which often introduce new tooling!