Marklin 88992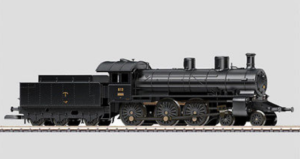 Marklin 81035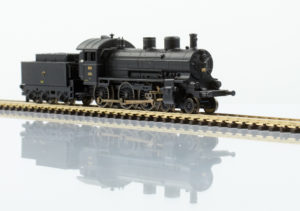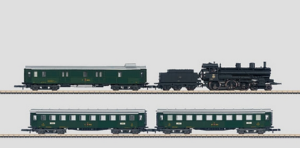 Note: photo 1 depicts the 88992 loco and tender in Marklin's original marketing literature, photos 2 and 3 depict the train set 81035. The original Marklin photograph varies greatly from the actual loco: paint finish not as glossy, side rods not as dark and wheel/spoke design more typical of other steam locos produced by Marklin in 'Z'.
A 'One Time Series' locomotive from 2005 is the Swiss Federal Railways A 3/5 express locomotive based on the 4 cylinder compound prototype from Era II. Marklin released the locomotive with tender as item number 88992, they also released the train set 81035 in 2007 with this loco and tender plus 3 coaches called by Marklin "The Old Timer Train" in celebration of 125 years of the Gotthard Line. Both items are very hard to find for sale, but if you model Swiss trains and find one it might be of interest for your railroad. Having the luck to find one might come with some disappointment with running performance 'out of the box' which is the topic of this post. I own both the train set and the loco, each was purchased new, but the loco is a recent acquisition, it arrived with working headlamps and 'HOS' (hardened oil syndrome). The locomotive was dead on arrival which also indicated it was never run and the original Marklin oil was dried up. Marklin oil over time dries out, it acts like glue in this condition. Does it always happen? No! Marklin may have varied the oil used during assembly so sometimes there is HOS and sometimes no evidence of HOS with older locomotives.
More than likely 88992 will have HOS, one dealer I have seen is selling the locomotive with replaced wheel sets leading me to believe the original was traded out because it was mucked up, thus making it easier to trade out the chassis than making this rather tricky repair.
Removing HOS from this loco presents a few problems that are easily overcome with those with experience. First the loco has to be fully taken apart including un-soldering the leads to remove motor. The leads will spring away from motor which is easy at this stage but more difficult when re-soldering later in the repair. The problem which is relatively unique for this loco design are two gears that are attached directly to the frame, they are not easy to remove, but they don't need to be removed. The gears in my loco were solidly stuck in place, I used 'Original Windex' (blue) and applied it with a dropper to both gears. Eventually the mild solvent loosened the gears that I worked back and forth with a toothpick until they were freely moving. At this point I dropped a few more drips of Windex and let the frame sit. When the Windex appeared to be dry I reattached the motor and ran it with a fresh oiling with synthetic plastic compatible 'Z' gauge lite oil. At this point the loco can be reassembled and tested on the track.
In summary: 2 frame mounted gears frozen in place by old dried oil will more than likely be the cause of this loco not working, removing the hardened oil will bring success!
Siding: If your headlamp works but the motor is silent chances are you have HOS, overly testing the loco in this condition will do no good for the motor.