FR Freudenreich released two SJ snowplow locomotives last year that quickly sold out, they were only available to customers who pre-ordered the locomotives. A build kit including the motor is currently available for expert modelers skilled with soldering and painting small intricate parts. NOHAB the company familiar to many railroaders built the 20 Tc's ordered by SJ in 1970 they are represented by FR as item 46.135.11 (top) and 46.135.21 (bottom) lettered for BANVERKET:
BANVERKET the government entity responsible for SJ's railroad and infrastructure existed between the years 1988-2010, its lettering and paint scheme is the inspiration for this SJ locomotive (FR 46.135.21).
Featuring all metal construction this locomotive type includes 4 snow plows, it falls under the designation 'MOW' (Maintenance of Way) due to its snow clearing specialization, but it was originally used as a 4 season specialty loco, following winter months it was used for regional freight service under the class designation: Tc DLL.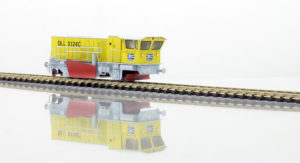 Later in its history the original TC DLL was repainted and lettered for BANVERKET (1988-2010) as DLL 3124C for their MOW service for SJ.