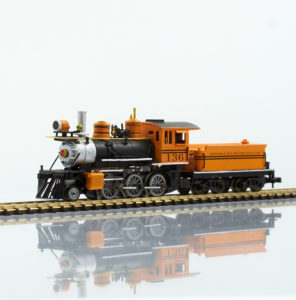 If you are an American railroader the "Bumble Bee" loco may already be in your collection, it has been released in many versions and many scales by numerous manufacturers. In 2004 Marklin released their "Bumble Bee" loco and tender for the mini-club line-up, it was cast in brass with metal tender. This "One Time Series" featured fine detailing and add-on parts with non working headlamp.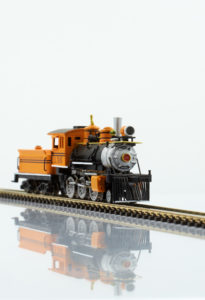 Founded in 1870 the Denver and Rio Grande Western Railroad (D&RGW) was originally a narrow gauge railway who's motto was "Through the mountains, not around them." The history of this railroad spans more than a hundred years from its founding as a coal and mineral narrow gauge mountain railway, in 1988 it merged with the Southern Pacific.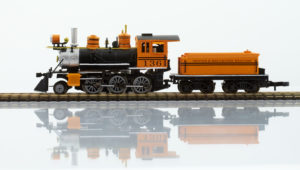 The Louisiana & Nashville Railroad built the first 2-6-0 locomotive of this type in 1864, it was a record setter due to it being the largest locomotive in America at that time. The Marklin 88035 could be said to be modeled on a later version with independent front bogie. Service span for this locomotive type was 1860-1910. Operating number for the Marklin "Bumble Bee" is 136. Baldwin Locomotive Works built the narrow gauge 2-6-0 locomotive for D&RGW 1881-1902.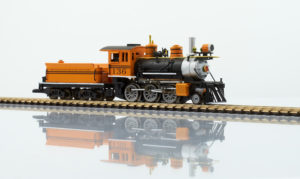 Note to collectors: Marklin's 88035 is sought after by Z gaugers but also N scalers due to its slightly larger size. 88035 is the first and only mini-club locomotive modeled slightly bigger than scale. Produced as a One Time Series in 2004 it quickly sold out, today it is high on the list of sought after secondary market locomotives. Pricing for this loco range from $500-$1000 (new/mint), but before you buy consider condition as a big part of the price, average used ones in working condition and 80% cosmetic condition should be in the $250-$350 range. Very careful buying trains online without seeing them in person unless you are dealing with a reliable seller or store. Reynauld's in IL,  ZTrackResale and Z Scale Hobo are recommended sources for secondary market.
Note: to go with this fine loco is the 4 car coach set lettered for D&RGW: Marklin 87910.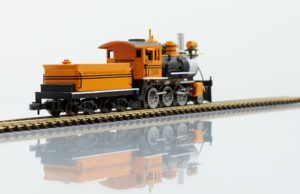 Good Luck and Have Fun!
Siding: The Railroad Museum of Pennsylvania in Strasburg, PA owns a Baldwin 2-6-0 locomotive for their collection. One of the finest collections of American railroad equipment can be found in this museum: http://www.rrmuseumpa.org/