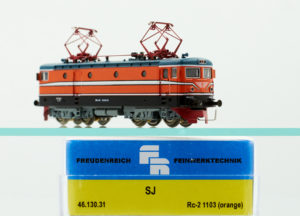 photo: FR 46.130.31 – RC-2 locomotive for SJ
Marklin has paid little attention to Scandinavian Railroads in z gauge. There have been releases such as the 4 MY locos (brilliant series!!!!) and a few interesting freight cars, but never has there been attention paid to Sweden, this country's railroads are left up to the never ending achievements of Harald Freudenreich at FR.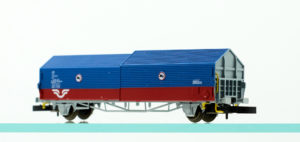 photo: FR 46.816.01 – Kis 950 sliding roof car for steel slab transport on SJ
Marklin has covered the SJ railway in HO only while FR has devoted much of their time in recent memory to SJ and other Scandinavian railroads. FR offers some Swiss, German and Austrian items currently, but Harald's devoted fans come to him for Scandinavian trains.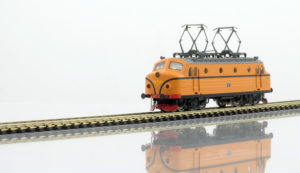 photo: FR 46.132.01 – Ra 987 Express Locomotive of the SJ
Some of the most interesting railroads in the World are located in some of the most interesting natural wonders in the World. Light, geography, and climate combine to create the beautiful Scandinavian landscape, but for trains it is challenging, cargo has to be protected from a rather brutal climate with some box cars lined with heavy insulation to protect from permafrost and autos transported in closed boxes. More on this topic at a later date.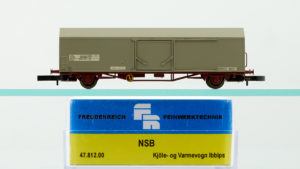 photo: FR 47.812.00 – insulated box car for the NSB
The topic today is a project I have been interested in starting for awhile now, it is the repaint of Marklin 8135 coaches for the SJ Railway. Although FR has paid much attention to freight rolling stock, they have not released coaches for the SJ as of this date with one exception. An announcement was made earlier in the year that coach sets are coming to market later this year, but in the meantime I am making my own custom set using dry stencils provided by FR a couple of years ago. The exception was a proposed project of many years that was finally released last year, it was a Marklin coach modified for SJ. The prototype was based on German built coaches used in ferry service in Sweden.  In order to model the prototype FR repainted and stenciled the coach after cutting the shell to remove a window thus shortening the coach. I own this coach and the craftsmanship is flawless.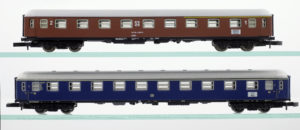 photo: FR 46.299.00 – type litt AB8k 1st and 2nd class coach for ferry service to Germany. The top coach is the modified Marklin for SJ by FR, and the bottom coach is the original standard coach by Marklin.
Why refinish the 8135 coaches and not another set of coaches? Good question! Set 8135 was released in 1991 and included coaches built in Germany that were also used on the SJ. The historical perspective was provided by FR who also provided the stencil kit for relettering the coaches and a paint chip for the correct shade of reddish brown used by SJ. Painting and other details will be discussed in Part 2 and 3 respectively.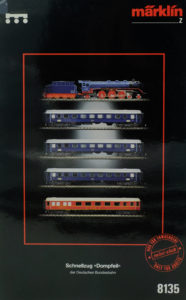 photo: deluxe box train set "Dompfeil" of the DB
The first installment of this project is disassembly of the coaches. It is okay to be a little nervous disassembling Marklin coaches, but all things Marklin are built to take apart, each part is snapped or clipped together without glue. Repainting projects in Marklin Z are not necessarily recommended by this railroader, they potentially will diminish the collectible value, but in my case I own two 8135 sets which I like very much, turning the second set into SJ coaches is a bit necessary since I collect SJ locos built for express service.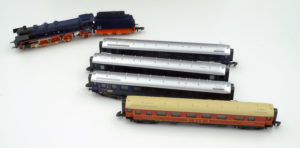 On with the project! First step is identifying the set for repaint, in this case the historical background was already researched by FR. The set for repaint is Marklin 8135 released with a BR 03 express loco in a deep blue paint scheme. The set was released in 1991 with three 2nd class coaches and one DRG dining car. This was a deluxe boxed set presented in a high gloss illustrated carton. The running performance of this loco is superb, and it looks great to boot!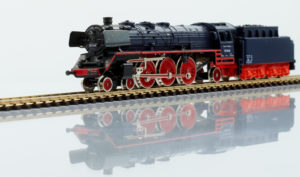 photo: 8135 locomotive and tender – BR 03
photo: 3 coaches disassembled with their respective parts including shell, trucks, weight, roof, and window glazing.
Step 2 includes the removal of the roof which is easily accomplished by very carefully pulling it off, the roof is clipped on and starting from one end seems to be the way to do this successfully.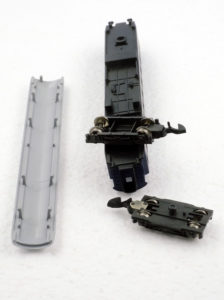 Step 3 involves the removal of each car's pair of trucks, carefully swivel each truck to the side for leverage and using a small screwdriver gently pry the truck off by moving back and forth around the pivot point, it will snap off. Note: torquing as seen in the photo is necessary for removal of trucks, but please use care.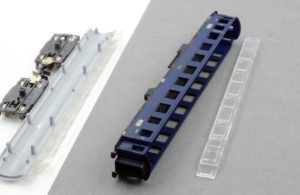 Step 4 using a small pair of tweezers and starting at one end gently loosen the window glazing held in place with prongs in the base of the coach. Take note of the indents that line up with the roof clips for reassembly later.
Step 5 is removal of the weights. Using a small screwdriver remove the plastic heat points holding the weights down, weights will lift off easily from the posts in the bottom of shell.
This is one of those projects that allows a railroader to tinker with their hobby.
Good Luck and Have Fun!
Siding: this set contains parts that are snapped or clipped in place, but older coaches used glue to cement the window glazing, in the case of older coaches window glazing will more than likely pop out with gently wriggling. Reassembly of early windows is accomplished with 5 minute epoxy only, other glues use solvents that might melt plastic. NEVER use a soldering iron in and around enclosed plastic parts, micro soldering irons should only be used on heat points to attach shell to frame and coupler housings with caution!