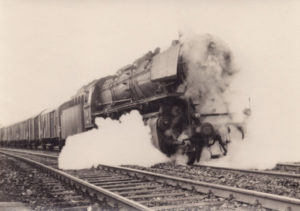 After WW II the DB acquired 1242 class 44 steam locomotives of a total 1989 locomotives produced from 1926-1949. The attached photographs document the original DRG Class 44's, a variant was produced for this class during the war, the class 44UK construction was limited and simplified and included but was not limited to the eliminating the smoke deflectors and cab side windows of the original class 44 as a matter of cutting costs. Latter in the 1950's OBB gave the DB 9 locomotives and the DB gave SNCF 291 for war reparations. According to my calculations a total of 316 were scrapped or destroyed at war's end. Originally designed for goods trains of 1200 long tons for the hilly Mittelgebirge region. In the late 50's the DB converted 32 44's to oil firing, these variants were reclassified as BR 043 for the DB. The class 44 3 cylinder steam locomotive proved its worth and continued in service with the DB until 1977. On October 26, 1977 the last steam locomotive for the DB made its last run: BR 043 903-4.
The operating number proceeded by '0' indicates this photograph was made "on or after" Germany's reclassification of locomotives in 1968. According to the documentation that came with these photographs this BR 044 665-8 was working on this day in Crailsheim, Baden-Wurttemberg.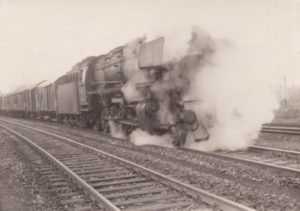 Marklin 88973 with operating number 44 1374 (released 2012 – 2014):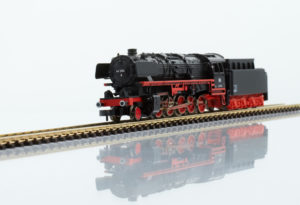 Note: buffers painted with warning stripes!
Siding: Marklin has thus far released three Era III BR 44's: 88971 (operating number 44 494), 88972 (MHI Release with operating number 44 100), and 88973 (operating number 44 1374).
Siding: many excellent Era III freight loads are available for this locomotive including the GI 11 boxcars depicted in these photographs. Marklin's recent release of weathered GI 11's can be found in the 10 car set (available individually from Walthers): 82559_1-10. These cars feature beautiful weathering!
Marklin 82559