Norges Statsbaner AS – NSB (Norwegian State Railways) is a neighbor to Sweden and thus any cross border deliveries of timber and other goods will likewise share rolling stock from country to country. FR's inventory in this category includes lumber cars as well as climate sensitive box cars.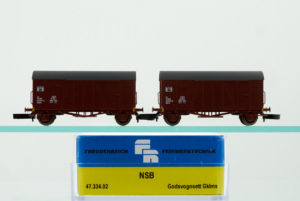 FR #47.334.02 – NSB, type Godsvognsett Gklms box cars. Set of 2 injection molded plastic cars with separately applied hand rails.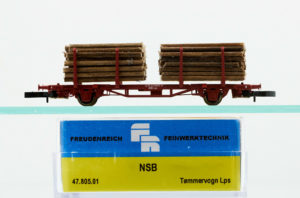 FR #47.805.01 – NSB, type Tommervogn Lps lumber car
FR #47.812.00 – NSB, type Kjole- og Varmevogn IbbIps insulated box car. Full metal construction. Unique box car design built with heavy insulation to protect goods from perma-frost and contrasting high temps from sun.