Marklin's 'maintenance of way' rolling stock and locos is an ever expanding area of collecting including regular releases and limited ones. The daily respect and observance of track, roadbed and signals is an experience we have in common at least keeping track clean for good electrical contact. Railroads around the world perform various levels of maintenance some more than others. Incorporating some of these interesting locos and rolling stock in a layout further represents what railroading is all about, maintenance is key to everything running smoothly in scale or prototypical operation.  This is a very interesting topic for collectors and a number of manufacturers produce some great items including Railex and FR. Check out their sections on this blog. And definitely take a look at FR's website which seems to include several examples of MOW vehicles from SJ and SBB including a snowplow loco coming up!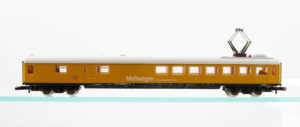 87741- German Federal Railways (DB) type 'fast measurement' coach lettered "Messwagen Versuchsanstalt Minden". Limited European release.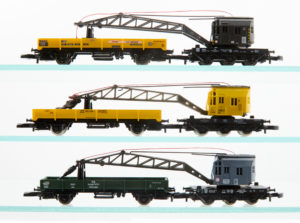 2. 8657.H.F.WIEBE- 'MSI' (Marklin Special Imprint) type Krupp-Ardelt crane car and low sided flat car with boom rest lettered for H.F.WIEBE. Car set originally sold with train set 81782 in a limited number of 500. Produced for Conrad Electronic.                                                                      3. 8657.3- German Federal Railroad (DB) Era IV type Krupp-Ardelt crane car and low sided car in yellow with boom rest (Version #3) produced 1991-2008. *two versions proceeded this version with color variations                                                                                                                         4.86571- German Federal Railroad (DB) Era III type Krupp-Ardelt crane car and low sided car with boom rest.
*Note: a single type Krupp-Ardelt crane car with boom rest was released as 8621 in three blue color versions, it was produced 1986 – 1987. All crane cars have working crane, pivoting boom, and swivel cabin.