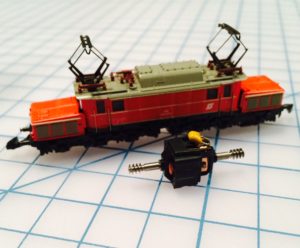 Marklin released the exquisite OBB BR 1020 in 1996-1998, this Era IV electric locomotive was delivered with the 3 pole motor 268200. In this post I will go through the step by step process for installing the current 5 pole motor E211906. The new motor also fits all 3 pole German versions of this loco which there are several including the DR 8812, DB 8822, and DB 8824. Featuring an articulated frame this locomotive type has been nicknamed the "German Krokodil" following its likeness to the SBB Be 6/8 with its articulated frame and pronounced design resembling a crocodile. As for the Marklin 'Z' versions of this loco each vary only by paint scheme and railway designation. It was only in the past few years that any tooling changes were made with the releases of 88224 and 88226 which feature LED headlamps and hidden catenary screw.
Onward with instructions for installing a new 5 pole motor in this locomotive type, but first does the loco with 3 pole really benefit with the 5 pole upgrade? No necessarily, the original 3 pole motor is a fine and powerful motor powering a loco of some heft, it features metal frame plus metal ends giving the locomotive good weight for pulling a large train. The loco is also so well designed that its original running performance is outstanding even with the 3 pole motor. The 5 pole motor replacement is also expensive with a list price of $109 at Walthers, it is also listed as 'sold out' and unavailable, but the one I am installing was recently purchased for $60. Others can probably be had from German dealers. The benefits of the new motor include a much quieter motor and slow idling, but no real increase in pulling power. I would have been happy and content if no 5 pole motor presented itself, in its original delivered condition these are beautiful locos and excellent runners.
If you have a loco of this type with HOS (hardened oil syndrome) please refer to my instructions in the post dedicated to full tear-down and restoration of the 8824. The following instructions are for the quick motor change-out only.
Before you start check to make sure the new motor works and spins in the correct direction. Run motor in both directions for a minute or two to break-in brushes.
Pop off center shell using the thin guitar pick method referred to in other posts, never use a screwdriver as Marklin indicates in their instructions or damage will result to the shell. 
Notice circuit board is held tightly onto insulator frame by 4 clips, gently pry circuit board free of clips. Use great care to avoid cracking circuit board!
Circuit board will be loose from the insulator frames at this point, but it is still attached to solder points. Carefully move circuit board out of the way of the screws that secure insulator frames to the main chassis frame. Beware that the wires extending front and back do not damage electric pick-ups for both trucks.
Set aside insulator frames and carefully remove motor, remove any old oil on the frame and install new motor. Apply a small drop of oil to worm drive on each end of new motor.
Notice the difference in appearance between the original 3 pole motor and 5 pole motor: 3 pole capacitor bent backwards/ 5 pole capacitor is bent forward
Special Note: Notice original capacitor is bent backwards hidden under circuit board. The new capacitor is bent in the opposite direction and due to its small size is visible through the opening of the circuit board.
Reassemble and verify motor is aligned and level by running leads to the brushes. If everything spins well, and the motor is quiet the loco shell can be reattached.