Marklin's 88872 railcar is part of a series of 5 with this design, the original prototype was nicknamed "Flying Hamburger", but this railcar is called the "Montan Express".
If you own all five or any one in the series special consideration needs to be applied toward repair and maintenance. Routine replacement of the brushes is accomplished after removing the shell, but before the shell can be removed the specially designed buffer needs to be pulled off. Unlike the BR VT 11.5 Trans Europe Express's buffers which look very similar the 88872's buffers pull off, they are spring clipped on a post inside the loco. Note: shell can be removed only after pulling off the buffer.
Marklin designs each loco in the mini-club line-up from the ground up thus each carries certain unique design properties thus this railcar is unlike any other with numerous interesting design characteristics. The E211903 5 pole motor generates the propulsion to one powered truck thereby reducing the worm drive to one, other locos often have two driving front and rear trucks. Note: worm gear spins wheel gearing, motor gear engages with like gear.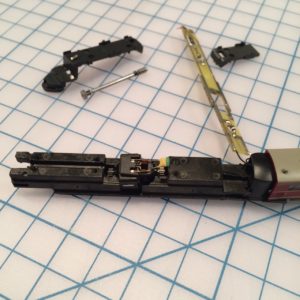 LED's light the unpowered coach and headlamps which feature trailing lights. The shell fits snugly so extra care should be taken when removing or reattaching. A few notes about removing shell include the use of very thin guitar picks to help in safely removing shell. When reattaching shell notice channels on both the chassis and shell ends that allow the two to slide together followed by pressing shell from end to front carefully and securely. Notice channels at end of shell and end of metal chassis.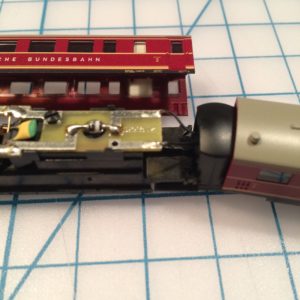 This is another precision loco in mini-club thus all parts fit together perfectly.