A long anticipated new freight car set has arrived for mini-club: 82540 "Beet Harvest" car set. Included in the set are 5 EANOS gondolas with completely new tooling. Also included in the set is a building kit identified by Marklin as the loading facility at Behringen, Germany. I am writing this post after having completed the building kit, and I decided to split the post into two parts: freight cars and building kit.
An introduction to this new release should first start with an historical perspective concerning sugar beets, its history is interesting. Sugar beet discovery in the mid 18th century with the support of the King of Prussia are the sweet alternative to tropically grown sugar cane. Today Russia stands as the world's largest producer followed by France, United States and Germany respectively. Sugar beet harvest in the United States starts October 1st employing seasonal workers that help with the two week harvest. Two machines are used in the field including a defoliator to remove the green leaves and cut the beet top. A second machine is a "pinch wheel" harvester that pinches the root and lifts the beet to the harvester with some soil removal. From the harvester in the field the beets are offloaded to trucks for transport to a large processing plant. The Marklin model suggests a loading facility which would have been located near a rail siding for loading into high sided hoppers. Presumably a large farm or a group of farms can make use of this loading facility to expedite the transport by rail of this crop to the processing plant.
"Complete or partial new tooling" we hear a lot of from Marklin in recent years relating to the mini-club line-up owing to the many great advancements with new classes of locos, new types of rolling stock, motive power and in this case too a new building kit thrown in to an already outstanding set of 5 freight cars of completely new tooling. Set includes 5 type EANOS high side gondolas lettered for SBB with loads depicting sugar beets.  The finely lettered cars feature loads that are every bit accurate to real sugar beets in color and scale, google sugar beets and compare. Set gives a mighty fine impression of thousands of beets headed for the processing plant. A new advancement these days are close coupling featured with these cars.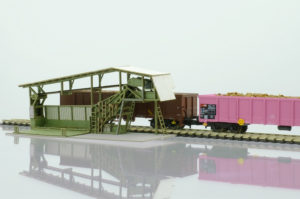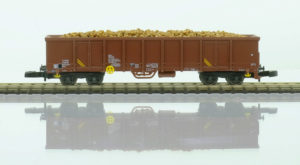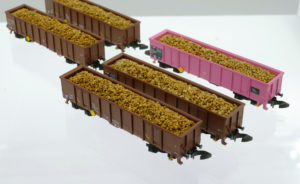 A building kit is included with this set that Marklin describes at a loading facility from Behringen, Germany. Assembly instructions for the kit indicate Modellbau Laffont as the manufacturer, it appears that a similar car set was released previously by Trix with an identical 'N' scale loading facility. It is great fun to get cars with a building kit and vice versa, but this building kit is far from fun to assemble. First it is a building with filigree parts which form the framework along with several parts that require bending if you are to follow the instructions. Individual parts are numerous and made of construction paper thickness which can be difficult to work with. Add glue which expands and softens these parts along with their small size and your task is not going to be fun if you compare this kit to other manufacturers like Archistories. I give credit to the manufacturer for coming up with an interesting building, and I fully appreciate the tight budget that follows. If you get through the rather difficult construction you may be surprised at what an interesting finished building it is. Deciphering the illustrated instructions would be far easier a second time around so some mistakes I made would be avoided during a second build. I have a few suggestions and modifications that I would follow if I made another. So with the mistakes and modifications I am happy with the building which will be a great addition to my future layout alongside other laser cut card stock buildings which are rich in detail and color.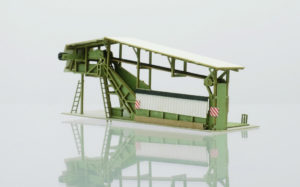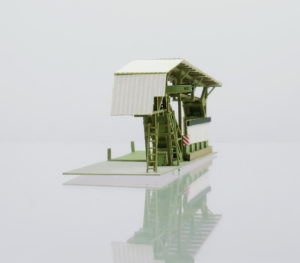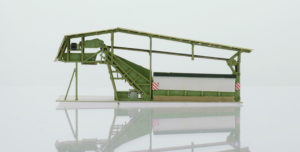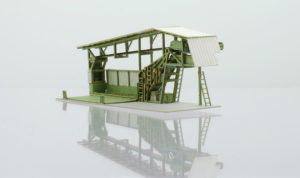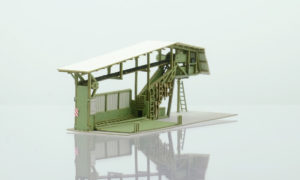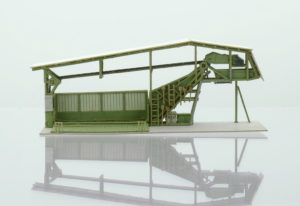 Note: modifications that I made to the kit include two with the back wall – no angled roof partition and addition of brown strip to lower track side to hide cardboard bend marks. The first was a mistake and the second was to hide a rough part.
Start with the right tools, there are not many but don't attempt to assemble this kit without magnifying goggles (not pictured)! Notice the exclamation mark next to the last comment.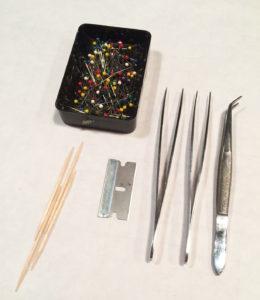 Kit comes delivered in 8 part sheets of various color including one that are decals for "warning" stripes. Care should be taken separating parts as they are of very light gauge paper. Notice the large number of parts for this assembled model of just 1 1/8 x 2 13/16 inches overall.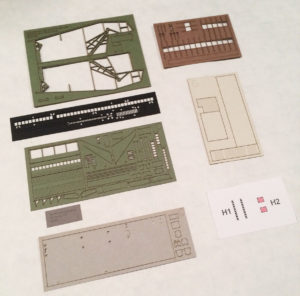 Following the instruction manual I would make these comments in order of appearance to hopefully add some enjoyment and success for others putting this kit together: Steps A and B depict the filigree framework construction and attachment to the base, small drops of glue with a pin is all you need, I would suggest gluing after you have these parts in place followed by single drops below base where posts engage in holes in base. Step E requires bending conveyor belt, paper fibers will break in jagged edges plus may separate, I would suggest a small drop of glue to soften the ends of these fibers and bend back in place thereby smoothing the bend. Step F gives instructions to bend and contour a large part that goes across base and conveyor identified as part #D1, this part is flimsy paper and all the bends and contouring will give poor results and you may not be able to center the conveyor properly, I suggest cutting this part into three parts: along treads, beginning of conveyor, and back wall. After this part is carefully cut into four parts carefully glue in place starting with the conveyor which should be centered with the vertical conveyor shoot. Note: gaps can be filled with glue applied with a pin. Step M illustrates placing electrical box and storage box below conveyor, at this point it is awkward to place them, I suggest placing the electric box and carefully applying a drop of glue after placement followed by storage box. Step N part G4 is a roof partition for the back wall, it should be installed on an angle. Step P illustrates roofing material, fill gaps between sheets with glue. Lastly if you want to add realism consider weathering with dirt and grime, moving parts would be greased attracting dirt dust and static parts would have a layer of dirt. During loading a cloud of dust would be present. Dry brush techniques for dirt and grime on structure and conveyor, and application of dry pigments to roof and base by careful rubbing.
Siding: loading facility gives sense of scale to the massive size of these gondolas, a few figures and tractor with trailer or truck would give the impression of the operation. Wespe Models make a couple of nice tractors, a prototypical tipping trailer will be harder to model.