The Gottard Tunnel opened to freight trains January 1, 1882 after 10 years of construction and deaths of 200 workers. It was the longest tunnel ever built when it opened with a total length of 9.322 miles. Used by steam trains until 1920 when it was electrified the private railway Gotthardbahn operated the tunnel until it was incorporated with the Swiss Federal Railways in 1909. The proposal for such a tunnel as part of the project to link North Italy and South Germany was first proposed in 1848, but the Gottard was a difficult tunnel to build with construction starting in 1872, workers used the recently invented dynamite (1867), pickax and shovel. The pace was slow at just under 5 meters a day for a proposed budget of 2830 Swiss  Francs per meter but that cost would increase by 11%. The lives it cost included the Swiss engineer Louis Favre who overseeing the project died of a heart attack inside the tunnel.
The Gotthard Tunnel one year before completion: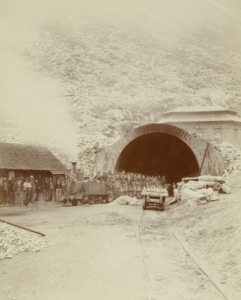 The Gottard Tunnel in 1890 as recorded by the Italian photographer Giorgio Sommer (Napoli) who was well known for his photographs of Switzerland's geological formations: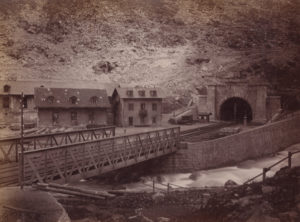 Postcard view from 1900: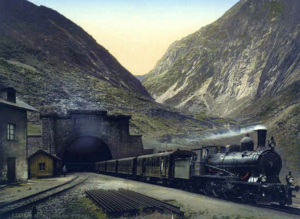 Postcard view from 1900: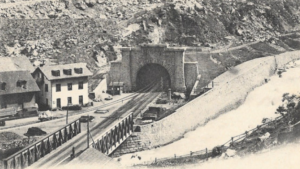 Today with view from Goschenen station platform: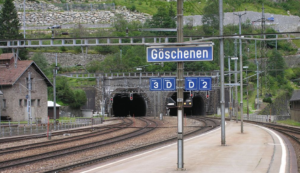 Siding: Marklin produced two Swiss early steam locomotives who's prototypes would have run through the Gotthard at the beginning of the last century: 88992 + 81035.
88992 – Serie A 3/5 Era II loco with builder number 613 and paired with type T 20 tender. One Time Series 2005.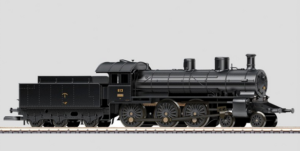 81035 – "Swiss Old Timer Train" Era I loco with builder's number 605 paired with type T 21.5 tender with three coaches. One Time Series 2007.