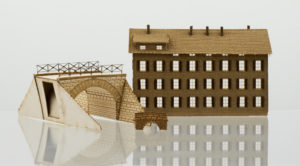 MBZ of Germany is the manufacturer of laser-cut building kits in multiple gauges. In the United States Reynauld's of Illinois is the exclusive distributor and seller of these kits, but finding them in stock and ready to ship is another matter, if you place an order for one that is out of stock it will take months to receive from what I have heard. The range of architecture represented in the MBZ line-up is vast mostly comprising railway and rural building types. In appearance the buildings look like older types existing after years of life, the materials and manufacturing methods further reinforce their appearance.
The kits I have thus far assembled are three including two bridges and a building. When you receive one of these kits it will probably be delivered in a plastic sleeve with part sheets and instructions. Instructions are going to be fairly minimal with a single illustration, but there are fewer parts than other manufacturer's kits. You might also discover some parts either broken and bent, if this arises some special consideration will be required to modify or repair sections. I have not found this to be a big deal and probably due to the nature of the materials that are appropriate to the buildings.
MBZ buildings do away with the framework other laser-cut kits employ that exterior panels attach to give thereby giving a solid feel and straight walls, with MBZ floor and side panels are simply glued together. I received all three kits with warped parts maybe due to the material and laser-cutting? Some bending will work and at least help straighten parts. Gluing in sections will also be needed to keep things straight between two pieces forming a corner. A slight scent of burnt paper was evident during construction, and prep work is required to remove glue resistant carbon dust, the manufacturer suggests a sanding block or old wire brush for removing this deposit left from the laser-cut burning.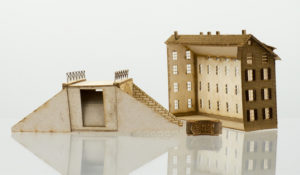 The 3 kits I made were Small Stone Bridge (MBZ R16079 – $8), Bypass (MBZ R16014 – $24), and Halbrelief Erstfeld "2 Dimensional Structure" (MBZ R16058 – $49). *Prices currently posted on Reynaulds website.
The Small Stone Bridge is a nice kit and beautiful addition to detailing a small stream, it detailed on the underside which is a nice touch. Building this is a little tricky, the paper is thick, small and requires bending: all challenging features. I wish I had this stone bridge in real life to add to a leisurely stroll in the countryside!!!
The Bypass is a rail bridge with beautiful masonry and iron railings. Not enough room for a train below, it is intended to extend over a small road/path or stream. The very look of this bridge gives the impression of the year 1900!
Halbrelief Erstfeld or 2 Dimensional Structure does not have a door or a back wall, but it does have lots of shutters. The rustic nature of this building brings to mind a small town residence circa 1900! I imagine it looking good in a forested area at the end of a town or railway depot, the back can be finished off and placed away from the main attractions on the layout otherwise solve the unfinished look another way.
Too many buildings by just one manufacturer on a layout does not offer enough difference thereby making MBZ an interesting manufacturer to consider adding. If you model contemporary these buildings will give the contrasting theme of buildings before.
Siding: I used Noch's new glue 61104 for laser-cut buildings, but the manufacturer recommends UHU Hart glue. The manufacturer also suggests painting the kits before assembly with their water based pigments applied by sponge, but before painting the parts are prepped to remove carbon dust and primed to prevent too much wetting created by water based paints.