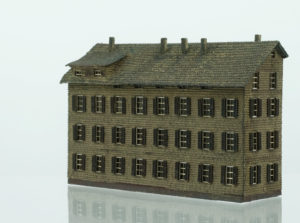 MBZ fills a particular niche for model railroaders in Z, they offer buildings age old building types along railroad yards, farms and countryside scenes along small streams and rivers. MBZ's style are buildings with the patina of age through deep cut detail work this quality becomes apparent.
MBZ sells a whole host of paints and supplies particularly suited to finishing these buildings through a technique of sponging on water base paint after applying a base coat of primary to retard too much soaking in of the finishing touches. How to videos show these paints to be easy in applying and relatively opaque although dilution of paints and light touch with sponge applicator is well suited to vary the transparency of the paint. I am new to MBZ kits and although I have not tried their paints myself I have seen finished examples at Reynauld's in Elburn, IL, they are really quite good and the paints give the impression of realism that is almost required if you intend to build these kits, they are of course delivered in similarly pigmented parts thus monochromatic and unrealistic.
I am well versed in a technique that many modelers employ: dry brushing. For those unfamiliar it is a painting technique that is unlike any other in bringing out surface detail. The technique itself is suggested in the name 'dry brush.' After saturating a brush with paint continuously run it back and forth over a paper towel until traces of paint can be seen. With a light touch and testing in a small area first use the brush to selectively add color either soot staining on roof tiles around a chimney or soot above a locomotive shed door thereby playing on the impression of accumulated soot from steam locos over time.
There is a little bit of artistry and technique combined with personal preference during the dry brushing application, but it is fun to see details become three dimensional and the life of a building carefully constructed come into being.
I often times mix paints for dry brushing and/or apply layers of different colors. The paints I choose are railroad colors available at my local dealer, and they are all water based. Water base paints dry matte whereas oil paints will dry with a gloss that can be cut back with thinners but why bother since water based paints work so well,  and they are easy to work with, and clean up is a cinch.
For this MBZ building I used a combination of four paints by Polly Scale and Modelmaster separately applied: Grimy Flat Black first to bring up details throughout the building, Roof Red to generally add a hint of color to foundation and ever so light touches to shutters and shadow areas under eaves and dormer, Vermont Green mixed with Pullman Green to give a subtle impression of moss on shake roof tiles, Pullman Green lightly applied throughout building for another color to add depth plus added to shadow areas and chimneys, lastly Grimy Flat Black to give uneven streaks to roof and chimney caps plus dirty up the window frames.
Before dry brushing: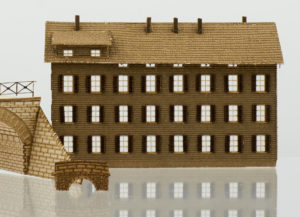 Siding: Weathering is an individual thing and the amount is often times based on preference, two techniques for MBZ weathering are this companies painting kits and technique as well as traditional dry brush, but other techniques can be used included rubbing dry pigments into the paper and sealing with a light spritz of matte lacquer, literally blowing a puff in the air and walking the building into the mist, do not directly spray the building! Explore explore explore and remember to have fun!
Siding: If you have invested a small fortune in the premium railroad paints made by Polly Scale, Railroad Colors, Modelmaster Testors with the small glass bottle and metal cap here is something of value to mention. Eventually your water based paint will spill over the sides and cement the cap on, run the whole bottle under hot water for several minutes and the cap will free up!