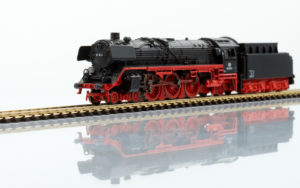 Photo: Insider Model 2012: 88010 – BR 001 for DB (no longer available)
Are we collecting or are we acquiring: that is the question. When Marklin Z comes into a collection a bit of railroad history is preserved and a commitment is made by this generation to future generations that hold that Marklin's history and the greater history of railroading is worth preserving.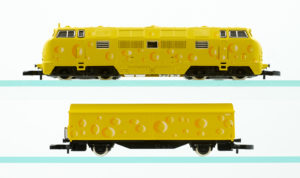 Photo: Special Imprint (SMI) 88820: "Swiss Cheese" class Am 4/4 pictured with type Hbis freight car also featuring "Swiss Cheese" paint scheme. (no longer available)
Marklin Z gauge is one of the last great collectibles, it will persevere well into the future, and what has been released thus far since 1972 are limited and rare. Rarity is well liked by collectors of all types, but collecting Marklin mini-club (Z) is truly unique from all other collectibles due to their leadership and innovation in z gauge. There are other companies some small and some large producing z gauge products but Marklin is linked to z gauge by the very fact they invented it in 1972, they continue that history today with innovations including true catenary operation through roof equipped pantographs on their electric locos, realistic working side rods on the steam engines, and numerous diesel loco types including the Russian Ludmillas.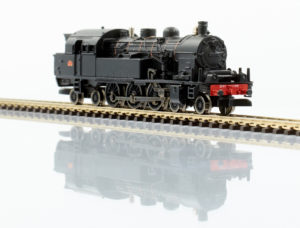 Photo: Export Model for France 2003: 88063 – Reihe 232 TC (no longer available)
Many collected "toys" (only time this word will be used on this blog because railroading is serious business! I'm kidding its loads of fun too!!!) these days are secondary market items from long defunct and beloved companies such as Buddy L from the 20's. It is exciting to dig around a find some rare item that has not been made for 80-100 years or more, but with Marklin anyone can jump in and start collecting from a company in business since 1859. Buy a mini-club loco today and within a year or two or even a few months it will be out of production and already a collectible. Keeping the condition of your new train pristine is part and parcel to collecting anything, but with Marklin this extends to keeping the box in good condition. Want to run a train on a layout simply select the railroad you want to model and keep the other fine locos and rolling stock on display, displaying is just as much fun as driving those trains.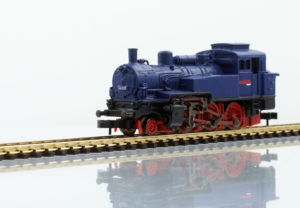 Photo: Marklin Magazin Edition 88953: BR 74 with lettering and Prussian Blue paint scheme for Marklin Magazin (still in production). Note: 1st locomotive release for the "Marklin Magazin" editions.
For collectors Marklin Z new releases are limited and rare falling into several categories: MHI Releases, Special Imprinted Editions, Export Models, Insider Models, Museum Editions, Marklin Magazine Editions, and general releases. Marklin Handlers Initiative includes releases only available to dealers that subscribe to the MHI program, this subscription includes ordering everything Marklin releases, MHI's are One Time Series. Export Models are limited to distribution in the given country the release represents thus Swiss Export Models are distributed to Swiss dealers in a One Time Series. Insider Models are available only to Insider Members who maintain year long membership in the insider Club for about $100/ year with many benefits. Museum Editions are car sets inspired by companies with ties to Goppingen, Germany the home of Marklin's headquarters. Usually housed in a specially printed tin box museum editions include a freight car and sometimes a cast metal truck or van. Marklin Magazin Editions are distributed in the United States by Walthers, these One Time Series freight cars usually depict a new car type, they are always painted Prussian Blue with Marklin Magazin insignia, and sometimes the car designs are inspired by the magazine's printing production including one car that included a load of reams of printing paper. General Releases are those cars and locos that are announced by Marklin and commonly distributed throughout the world, but aside from the perception of wide distribution these items are still very limited and rare with popular releases selling out fast. Of the categories so described Special Imprints and Export Models are the most difficult to collect with secondary market dealers being the only source for these with the exception of direct purchase from German dealers including those with listings on Ebay.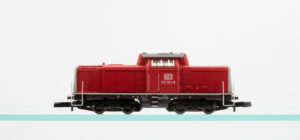 Photo: Marklin MHI release (2016) 88216: BR 212 (diesel) for DB AG (out of production: still available)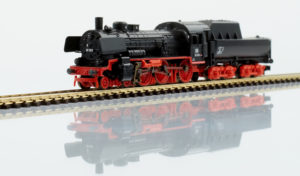 Photo: Marklin regular release (2013) 88998: BR 38 Era III (former Prussian P8) passenger loco with tub style tender (no longer available). Note: BR 38's have been in the Marklin mini-club program for years including trainsets, but the 88998 was the first generation of this loco type with highly detailed side rods and running equipment. This is one of favorite mini-club locos, it is a real pleasure to watch pulling Prussian coaches its action on the rails is melodic.
Part of the fun of collecting Marklin Z is rarity, this singular aspect of this hobby is underscored by small productions of one time series in multiple categories: Marklin Z the readymade collectible!