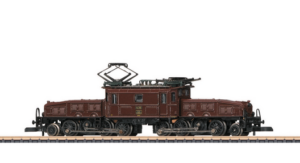 The iconic articulated Swiss loco "Krokodil" has long been associated with Marklin in all their scale models, but the new 88563 is a further development of this Era II loco in technological terms for 'Z' collectors following numerous releases of this loco in special editions and other variants since the first 8856 (green paint scheme) serie Be 6/8 in 1979 and the 8852 (brown paint scheme) serie Ce 6/8 in 1983.
For the first time changeover headlamps/trailing lamp in LED. Plus partially new tooling including the incorporation of catenary switch below the hood as it were and the removal of the roof top screw formally used to switch power on the circuit board from track to catenary. Removing the catenary screw from electric locos has been a continuing design function of the new locos just as improved running gear and side rods on the steam engines, it is a good time to get into the Marklin mini-club hobby!
Photo: 88563 (top chassis and bottom hood) and 8856.4 (green loco chassis and its hood showing hole through roof to support catenary screw)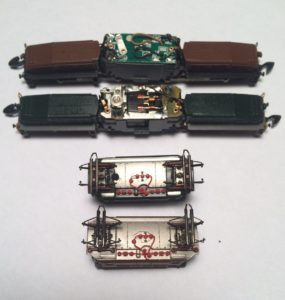 A brief look under the hood between the new release and an older 8856 variant is a new circuit board supporting wires for the LED changeover lights thereby obscuring the motor, as can be seen in the photo the circuit board is solid and does not support engagement with brushes, this new motor is identified on the parts sheet as E279 138. Is this a new generation motor? A quick google search revealed nothing!?! When I have more time I will be taking this one apart and reporting what I find! Note: runs great out of the box!
Photo: Marklin 88563 (top) and 8856.4 (version 4: 2009-2010)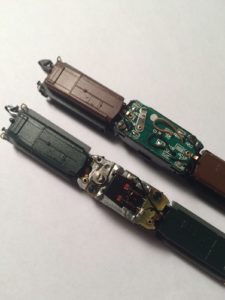 Note: switching to catenary power is achieved by carefully pushing the slider switch on the circuit board, in earlier versions this switch was a slotted head that extended through the roof of electric locos.
Follow-up: The new 88563 reveals a new generation motor! I couldn't wait to find the time to conveniently take apart 88563 to reveal its workings so first thing this morning I opened it up. On first inspection of the circuit board I missed noticing the black and tan leads soldered to the circuit board which descend through holes in the board to the motor, which sits in a newly designed chassis. As with all 8856 variants the articulated locomotive design is comprised of three parts including mid section containing motor with two worm drives and front and rear driving wheel sets, in this new locomotive the mid section chassis is newly designed and dispenses with circuit board clips as well as any visual access to the motor. The circuit board is further redesigned in function but also appearance with two retaining screws and a much thinner board.
Future repair: Any future repairs to this locomotive will be difficult for any but the more advanced modeler. Due to its thin construction the circuit board will be prone to cracking and replacing the motor will be a skilled operation requiring un-soldering of points on the circuit board. How often are future repairs expected on Marklin Z in general? ZERO in my experience except for the cleaning of gears and motor upgrades of the traditional 3 pole/ 5 pole variety.
Closing: Thru advancements in technology and detailing closer to the prototype Marklin is producing some truly outstanding trains, but more intricate parts and complex wiring schemes could be seen as challenges to overcome on the workbench.
Siding: If you have an SBB Krokodil that runs rough perhaps after cleaning and reassembling it maybe due to the front and back side rods being out of alignment. If the loco runs well in one direction but rough in the other reassemble side rods so they are high on one end and low on the other.