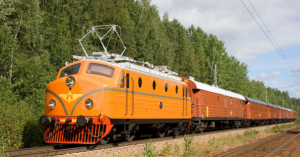 Part 2 is completed: stripping the old and prepping for the new. Marklin's 8135 Dompfeil set is the subject of the repaint and older SJ coaches will be the end result.
I am using the FR label kit for the repaint which includes dry transfer lettering, lettering will take place in Part 4.
Following Part 1 which was disassembly this post concerns stripping paint from plastic train shells. The stripper is 91% isopropyl alcohol available from any drugstore, its cost for this project $4.00.
I first placed all parts to be stripped (4 coach shells and 1 roof panel) in a small plastic dish and submerged them in the alcohol. In about 1 hour the paint appeared to be softening on the shells. Using a toothbrush I applied little pressure to remove the paint and decals, it would take numerous attempts with time in between to remove the finish, but it eventually started coming off with the toothbrush. The roof which was yellow in the original set was much more difficult to strip, it required an overnight soak in the alcohol. The silver painted roof panels I did not strip these I will simply spray over, I stripped the warm white panel due to the thickness of the paint which was heavier than the silver paint.
Note: use of eyewear and gloves is highly recommended. The fumes from the alcohol is very strong thus a well ventilated work area is best, take frequent breaks to avoid breathing in too many fumes, the plastic parts are not affected by the alcohol, they will not melt.
For paint that was in small crevices or around roof details I made use of a toothpick, soaked in alcohol, it worked well to dislodge hard to get at paint.
Following the stripping I washed each part in mild Dawn dish washing liquid and rinsed well.
After inspecting each dry part I repeated the stripping to remove paint on some of the window frames.
photo: before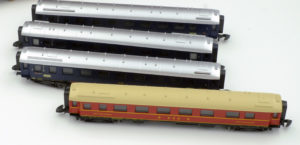 photo: after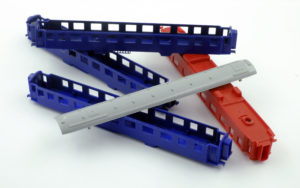 The next step is painting which will include constructing a spray booth out of cardboard box, matching paint chip FR included in kit, and constructing armature to hold the parts for painting.
Siding: the Dompfeil coaches are the same ones made in Germany for the SJ, they featured aluminum roof panels: early ones were painted gray and the late ones were shiny silver. For these coaches I am modeling the earlier ones to be pulled by an Ra 987 Express locomotive.
photo: FR – 46.132.01 – Statens Jarnvagar SJ (Swedish State Railways) Serie Ra 987 Express locomotive. Limited Release of 32 locos total.