A rather short lived and limited steam locomotive is none other than Germany's BR 10 express locomotive of the DB, only 2 were made in 1957. They were seen as the replacement for the Class 01, but lack of locally sourced parts sidelined the elegant steam locomotive to the car shops thereby cementing a wrongly held belief that they were unreliable.
Nicknamed "Black Swans" because of their elegant appearance the BR 10's were in service for just 11 years. Streamlining was practiced for many years in designs of steam locos, but the BR 10's seemed to be a further refinement of this technology, instead of reducing wind resistance by sheathing a steam locomotive as was the tradition, the BR 10's were shaped to direct the airflow in and around the locomotive while at the same time giving easy access to the running gear for daily maintenance. Cylinders could be accessed by hinged door in streamlining.
Two 4-6-2 BR 10's were manufactured by Krupp with oil fired tenders that would replace traditional firing thereby reducing the fireman's work by 30%.
The top speed of this locomotive class was nearly 100 miles/hour which was enough speed for express service and their time schedules, but their 22 ton axle weight limited their use to certain mainlines only.
The class 10 001 is a preserved locomotive at the railway museum Deustche Dampflokmuseum in Neuenmarkt-Wirsberg.
Marklin produced 5 variations of the BR 10 for Z including two in experimental colors and one 18 carat gold special version (88891). All locomotives with the exception of 88891 were given operating number BR 10 001.
In 1955 various color scheme proposals were submitted to highlight the new German Federal Railroad's flagship locomotive, but it appears black with white pinstripe was the chosen color scheme.
8888 (photo) One Time Series 1994 for MHI program with blue and gray color scheme.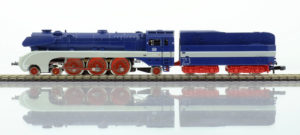 8889 (photo) BR 10 with black and white pinstripe was produced 1994-2008. Early examples will include the original 3 pole motors and later models have the new 5 pole. Operating number 10 001.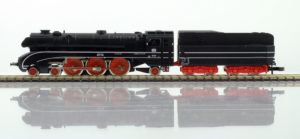 88891 (no photo) BR 10 commemorative model to celebrate "25 Jahre mini-club". Loco and tender were produced in 25 carat gold. This One Time Series from 1997 included white gloves and a signed certificate.
88892 (photo) BR 10 produced in celebration of 10th anniversary of MHI program. Stunning experimental paint scheme in blue with pinstripe. Produced as a One Time Series in 2000. Originally available from MHI dealers only. Delivered in wood box.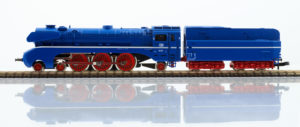 88893 (photo) BR 10 in experimental paint scheme by Krauss-Maffei, they proposed this design August 4, 1955 and referenced the study as TLO 54801. The smoke deflectors were unique to this design, tear drop shape was to accentuate the forward thrust of the locomotive. The resolution meeting at the end of 1955 was unable to approve this design. Limited Release 2004 available at mini-club Center only. A stunning example of a locomotive that if produced would have broken new ground in steam locomotive design. Delivered in wood box.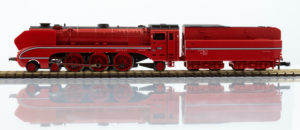 Beyond color variations no differences appear in the four pictured locomotives with the exception of specialized smoke deflectors in the 88893. Under the hood late production 8889, 88892 and 88893 included the updated 5 pole motor.
Adding streamlined locomotives to a layout will portray the transitional period of the late 1950's in Germany with all types of locos sharing the rails including traditional steam class 01's, diesel and electric.
Good Luck and Have Fun!
Siding: this robust locomotive type is a strong runner with excellent pulling power due to its heavy weight. Even distribution of weight makes this an unlikely candidate to poop out in a turn-out at low speed. Derailments are equally unheard of with this fine mini-club locomotive.
Siding: Marklin 5 pole motor upgrade is possible for the 8888 and 8889 with part number E211911. Basic soldering techniques are required for this repair.