Archistories "Dorpeder Hof" (photo: courtesy Archistories)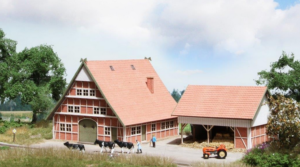 As many of you know who read this blog I am big fan of Archistories building kits for Z gauge. Archistories can be credited perhaps with igniting the trend of fine laser cut buildings in Z, they are fun to build and real architectural models: one step closer to reality! And they look great!
Archistories "Kallentaler Hof" (photo: courtesy Archistories)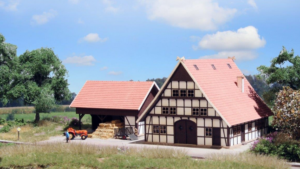 The good news is Archistories has been been releasing numerous items recently with more to come including scratch build accessories and fencing solutions!
Today I received kits of two versions for farmhouse and barn: "Dorpeder Hof" and "Kallentaler Hof". Both feature framework construction, but one is stucco and the other features brick fill with timber framework. The brick detail in the "Dorpeder Hof" kit is superb, it is also the kit I chose to build first. Each kit includes two buildings: farmhouse and barn with terracotta tile roofs. Overall an easy build which should take the experienced modeler 3-4 hours to complete. The only real difficulty with the buildings is lining up the filigree framework which is glued over the brick panels. Note: it is impossible to realign paper after pressure is applied.
I usually include a few notes based on my experience building laser cut that I hope are helpful. The instructions are always without error with Archistories, but I would point out a rather unique construction outlined in the instructions: farmhouse ends are built layer upon layer in more than 10 steps which require patience and precision, maybe 1/2 hour should be allowed for each. It is easy to overlook a step or part with complex constructions, probably rehearsing the assembly of all parts without glue is helpful. The other remark I would make is with the barn, part A10 is a delicate part that I recommend gluing to the base, but gluing it to the top panel only after it is assembled without glue. And great care should be exercised to avoid bending or breaking part A10.
Note: unlike plastic kits, some laser cut parts need to be aligned by the modeler such as decorative embellishments and moldings thus the parts that suggest joists should be aligned precisely with the framework timbers as is the case with the sides of the farmhouse.
Two dealers in the United States are reliable sources for Archistories:
zscalemonster.com
zscalehobo.com
Siding: the right glue for laser cut is Noch 61104 available at zscalehobo.com.
Siding: for realistic treatment of layout scenery stay tuned for historic photos recently discovered that might be helpful. Find under category "Scenery: Historical Guide."