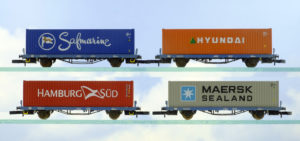 A very interesting freight transport type are container cars lettered for international shipping companies. All over the United States and abroad shipping containers arrive in port then carried by truck or train to various destinations, Marklin and FR have released a number of interesting European individual cars, sets and trainsets.
FR's recent release of a 4 car container set (FR 46.818.04) is lettered for Safmarine, HYUNDAI, HAMBURG SUD, and MAERSK SEALAND on cars lettered for Swedish MidCargo AB. Collectors can opt to run these cars on any Scandinavian railway and choose to realistically weather them as mentioned by Harald Freudenreich.
The prototype is a rebuilt class Os low side gondola modified for container service redesignated class Lgns 443. This car type is seen in Sweden heavily rusted which can be achieved by weathering. The model includes 4 cars with permanently mounted containers. A beautiful set with weathered wheel sets to use in mixed freight or unit trains!
As always FR packs there cars in custom foam lined acrylic boxes: very high production quality!