The recent release of FR's NetRail coach set was released on a very limited quantity of 25 sets total. Once a week look at FR's website because some items like this are fleeting and sell out fast.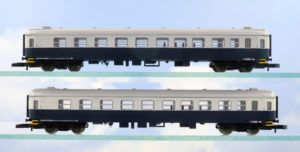 Continuing with another coach set of FR's design and manufacturing is this third one for the firm NetRail. Paint scheme is very dark blue and cool white with silver roof. No class designation.
NetRail founded in the mid 1990's sells and leases railway equipment that they maintain and refurbish.
Prototype: 1960-talsvagn
Siding: FR has proposed future releases of this car type with various paint schemes.