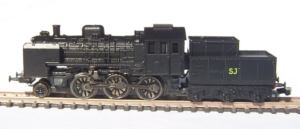 An important new release for SJ railroading in Z is FR's L5 steam locomotive, it comes in the form of a build kit with etched metal parts, cast boiler, and SJ decals. Note: I ordered mine and in a follow-up post I will review the kit and step-by-step photos. If you are new to soldering and assembling nickel silver/brass etched kits either buildings or trains the right tools make all the difference for this fun and rewarding extension of Z railroading: stay tuned!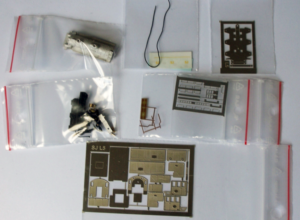 FR L5 locomotive item #46.140.91 is available directly from FR for a little more than $100 USD including shipping. Ordering from FR is easy and shipping to the United States is fast. Visit FR's homepage http://fr-model.homepage.t-online.de/ and set-up an account. Note: 19% VAT is reduced from posted Euro pricing for United States buyers.
The finished model includes loco shell only and tender without wheels, to complete the project Marklin class 24 or 74 locos provide the motive power. At this time I am not sure the recent release class 74's are appropriate for this kit due to their new side rod design, perhaps the class 24's with tenders are better choices due to the inclusion of the tenders and its wheelsets(?). I will follow-up next week after receiving my kit!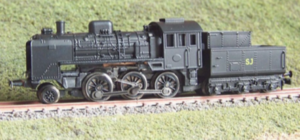 As is always the case with FR postings, I wish to announce new releases by this small high precision manufacturer because their offerings quickly sell out.
Prototype: class L5 locomotive built by NOHAB in the 1930's was designated as a branchline passenger and freight locomotive of which 5 were built in Trollhattan.