Miller Engineering released a line of buildings kits years ago called Micro-Structures designed along the lines of typical architecture found in many small American towns. If you visit Main Street in many USA towns the original buildings haven't changed much since they were built in the late 19th century, the towns themselves have changed dramatically and some buildings have gone through facelifts and demolition here and there, but for the most part the old buildings are intact thus modeling most any era of American railroading is possible with these building kits.
V101- Victorian House: "Empire" (note: additional scoring is required with this kit)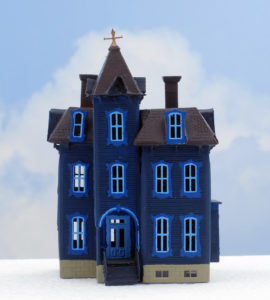 V606- Victorian House: "The Victoria"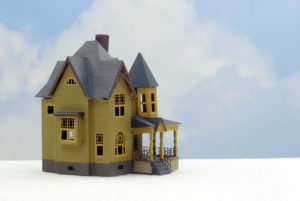 The concentration of the line was on Main Street, but it also included a few Victorian houses that rounded out the line nicely. Note: I am using the past tense because unfortunately the line was discontinued with only a few new kits available here and there from dealer old stock. Ebay is a good source as is ZScaleHobo.com. I found a local dealer who had a few left over kits which were very popular in their day and should be today; they are well designed in historical scale and detailing plus well made out of heavy gauge etched brass.
303- K.C.'s Hardware Store (note: features printed windows with store logo) lime sometimes appears over time in mortar joints and bricks, I applied diluted white paint followed by wiping off to give this effect
404- The Triangle Hotel & Bar (note: features printed window masking for the street level windows as well as clear acetate for the other windows) building as it appears right after painting but before window glazing. Typical building type for a mid size town, but this design first appeared in NYC, that building is called not surprisingly the "Flat Iron Building"
505- Crestline Theater (note: two options for marquee include a solid marquee with etched movie now showing or a cut out marquee designed to hold a paper now showing sign, this building was built with solid marquee) detailing is so good with this kit that a depiction of can lights above the doors is included that look great lit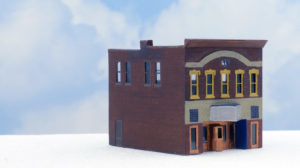 With a few exceptions the kits go together quite easily, but I found the large Victorian "Empire" House to have shallow scoring lines for bending in this case further scoring was required. Overall the Empire house was the most difficult of the group to make.
606- Pitman's Deli (note: excellent detailing with printed store windows and beautiful awning, plus recessed door)
I found some kits came with acetate for the windows while others did not, and a couple had just enough for street side windows with very nice printed signage.
901- City Fire Station (note: I tried building this kit years ago with the recommended Super Glue, it was a disaster and tried these kits again until this Fall. Solder is the way to go for me!)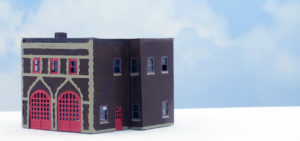 One obvious advantage with these kits is lighting, they will not leak light as the metal is opaque, but you must fashion windows masks or partition walls for realistic effects.
801- Townhouse #2 (note: under construction the model is assembled but prepping it for painting will include sanding solder joint smooth and bending to make the building sit flush, followed by a good cleaning with diluted Dawn, warm water and a soft toothbrush, green residue on building is flux which washes off easily with warm water and original blue Dawn)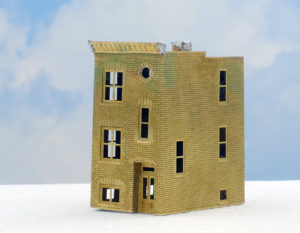 Prepping the kits for assembly takes time, any rough edges must be sanded or filed. And after assembly the buildings need thorough cleaning to remove solder flux or other debris. Super Glue or soldering are the choices for assembly, but I prefer soldering due to the speed and control of this method. Soldering is easy if you use flux in addition to the solder with flux. I solder at 750 degrees and place water soluble flux at the area to be soldered with a toothpick. Note: solder melts and follows the source of heat, try to avoid applying solder directly to the soldering iron tip.
100- City Scoop (note: this is the only kit that requires Super Gluing, it is made of stainless steel and solder will not adhere) this building features great detailing including ice cream machines and work table on the interior, plus picnic tables, air conditioning unit and trash cans on the exterior. I had fun with this kit and painted a whimsical ice cream cone. I also left the interior natural stainless steel, but I painted the ice cream machines with silver solvent based paint and painted the outer edge of the ice cream cone with metallic copper solvent based paint just to catch a sparkle there. (note: if you discover a build-up of Super Glue after its cured it can be removed easily with a razor blade and wear gloves working with Super Glue!!!!!!!!!!)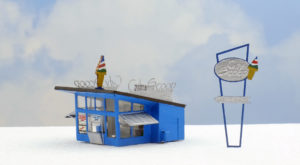 Note: preparation of the building will include sanding or filing smooth any solder ridges or residual glue that will otherwise show up under a thin layer of paint.
Window glazing is glued in place after painting with 5 minute epoxy. As stated earlier acetate was missing in some kits I bought or not enough was included, if you build Archistories kits use some of the leftover acetate as they are very generous at Archistories.
5 minute epoxy might be the best option for securing these buildings to the layout if it is portable otherwise they sit flush to the surface and anchoring may not be required.
The small buildings in this line-up require simply cementing window details in place then folding buildings sections together and cementing. The roof requires bending along sides and molding embellishments before attaching to building. Note: fold the front section of roof first before side sections, a separate folded section goes over the front of the roof thereby giving a nice finishing touch thus do not cement the roof until this part goes on! Note: everything is outlined well in the instructions, my notes are simply to highlight important aspects that arose for me.
These buildings look better in person, and even better with a GG1 rolling by capping off the hard work and meticulous attention to detail involved with their construction. And your family will be proud of your good fortune!
No complaints about these kits, they were fun to build and modify as needed!!! And soon to be very collectible!
Siding: essential brass bending tool is "The Bug"