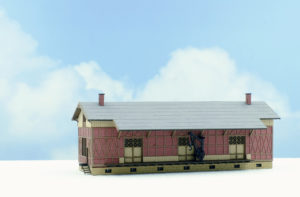 Marklin new release of a freight depot in laser cut cardstock is the "Bee's Knees"! This was a fun kit to put together and aside from taking extra time on window glazing went together surprisingly quick. Marklin labeled this kit as "Maintenance Facility Set-up Part 3", it includes loco maintenance equipment as a bonus but the building can be used as a stand alone freight depot. Marklin 89805 with loco shed, coal loading crane and bins is considered the first in this series and 89806 is considered the second in the series which includes loco shed with two tracks, water tower, and cast metal power shovel.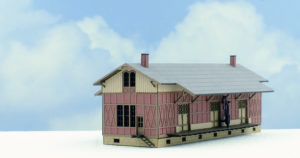 Measuring in inches 4 1/2 (length) x 1 15/16 (width) x 1 9/16 (height) the new freight depot kit is loaded with detail with a very pleasing color scheme.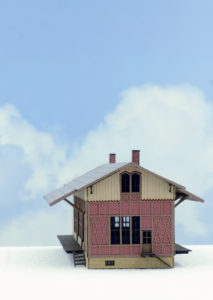 The 2 chimney building allows workers warmth at both ends with the expected heavy draft coming from the 6 large freight doors complemented by iron framework ornamentation. The framework construction typical in parts of Germany sits atop a cut stone foundation with windows around the perimeter.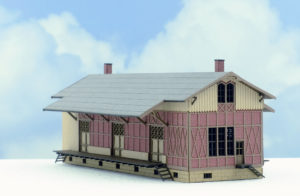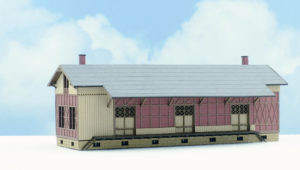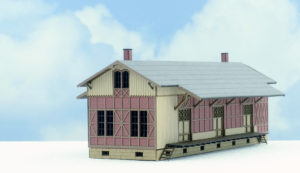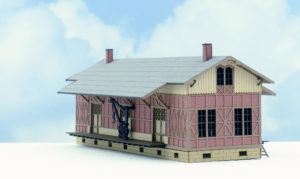 A crane is permanently installed on the dock and when properly installed swivels. Heavy beams support the docks with sets of wooden steps allowing access from the ground. It is possible to light the building with pre-cut holes for installation and one partition wall to create lighting effects.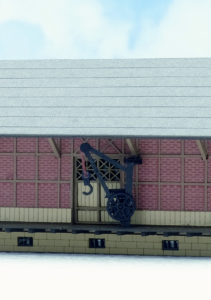 Construction tips: kit designed for the modeler with a little experience with laser cut cardstock buildings. This kit features all the challenges you may ever see in laser cut including filigree framework that installs over brick panels. The chimneys are always deserving of care, attention and time because they involve the inner forms for construction followed by 4 side panels that need correct alignment with a chimney cap installed on top. Results are always better with properly installed window glazing which is the first step in all laser building kits with windows. A time consuming exercise relying on cutting precise squares and rectangles out of the provided mylar sheet. Don't proceed building this kit without the window glazing, they give depth to the building especially when lit from within or side lit. A characteristic of laser cut cardstock buildings are the sometimes flimsy papers used to complement 1:220 scale and intricate detailing, overly thick paper stocks would diminish the overall look of fine detailed z buildings. Gaining experience with these kits will surely reward the z modeler with correctly scaled and interesting architectural models. Weathering is certainly a consideration to add depth and character to a building of this type, the docks would receive heavy wear from dollies and hand trucks representing the dirty paths embedded in the dock's planks, soot from the chimneys and age patina of steel sheathing on the roof. Air brush and dry brush techniques for both areas of the building.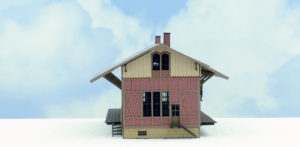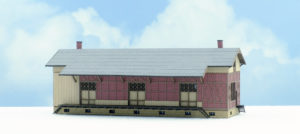 Accessories in the kit: the building could have been enough for this very successful kit, but as an added bonus loco maintenance equipment was also included: rail bicycle, track scale with building, steam loco tools and stand, oil standpipe, and smokestack.
This kit is highly recommended.
Good luck and have fun!