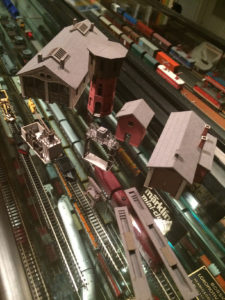 Marklin has thus far released three maintenance facility laser cut kits with related accessories starting with 89805 (2015): "Small Railroad Maintenance Facility, 89806 (2016): "Small Maintenance Facility" and 89807 (2017): "Maintenance Facility Setup". All kits are available.
89805 includes a small loco shed with an attached workshop, small water tower, standpipe, coal loading bin with crane and buckets, plus two cast metal speeders for rail inspections (*includes track compatible rollers).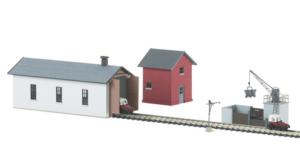 89806 includes a two stall loco shed, Prussian water tower, cast metal power shovel, sanding tower, 2-inspection pits and blasting rack.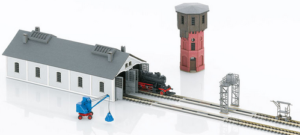 89807 includes Sulzdorf freight shed, track scale structure, tool rack with tools, oil standpipe, smokestack, and handcar.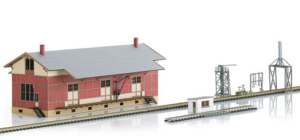 Build all three: Accessories in each kit complete the tools and equipment for maintaining steam locomotives thus building all three affords a realistic representation of steam maintenance facilities. The only redundancy in the three kits are the first two loco sheds but each can be used in various parts of a layout including the first loco shed alongside a small rural station for rail bus storage. Two water towers are included in these kits: one paired with a standpipe and the other representing Prussian design.
Notes on construction: Several challenges exist completing the various kits including filigree cutouts that layer over building sidings, small parts to assembly and the intricate nature of working small. Careful preparation will go along way including precise cutting of parts, alignment and gluing. Magnifying goggles, tweezers and small drops of wood glue are all that is needed. I recommend Noch glue for laser cut available from ZScaleHobo.com, this is an easy to apply strong glue and superb to apply right from the tube due to the small applicator.
Special challenges with these kits: Window glazing requires manual cutting and measuring unlike some kits which diecut the glazing. Loco doors on the second kit's shed do not have glazing frames so the glazing is glued directly onto door panels, perhaps consider some customizing to add a subtle frame around the windows(?). Some filigree parts are lightweight paper so great care needs to be taken to avoid rippling of the paper thus achieved with very little glue applied. *A glue stick is ideally suited to avoid applying moisture to paper constructions but in the case of laser cut buildings in Z it is unsuitable for a variety of reasons.
Marklin 89807
Rating: All three kits are perfectly tuned to Z scaling and rich in details. The freight shed in 89807 is superb as are the water towers which isn't to say any of the other constructions in these kits are anything less. I would highly recommend all three kits, they were super easy to build with noted special challenges the finished buildings look great.