Marklin has released 'weathered' rolling stock before, but the weathering on a current release of 10 cars is so good it deserves special praise. Those 10 cars are none other than the GI 11 boxcars for the DB in three versions: 82175- 82178 type GI 11 without hand brake, 82261- 82263 type GI 11 with brakeman's cabin, and 82264- 82266 type GI 11 with brakeman's platform. In 2014 Marklin released these same cars lettered for the DB in a 10 set pack without weathering, they showed off Marklin's excellence in injection molded plastic; you can see all the bolts and planks that built the prototype along with crisp lettering throughout: car set 82559 is long sold out but some are still available from some of the Ebay listed dealers. The 10 individual cars this post is dedicated to is currently out of production (short shelf life for these beauties!!!), but Walthers still has them in stock! The weathering is coal soot from the loco and other floating dust and grime from many miles traveling the rails. Authentic to the prototype, this weathering is applied to the lower extremities of the cars in varying thickness and spread: no two are the same! I would to see more of Marklin's obvious weathering skills applied to other locos and rolling stock thus making the world one step closer to being complete and true! Bravo to Marklin!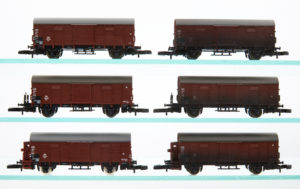 Three car types from set 82559 side by side with the newly released heavily weathered same car types.
Siding: wheel sets are also complemented with authentic weathering. Wheel sets from Marklin Z rolling stock can be similarly weathered and aged using an airbrush with water based pigment, they simply unclip from the chassis, hold them in place and give each a light swipe from the airbrush gun!