A very interesting Marklin Z loco of the 'mallet' type was introduced in 2004 as Insider Model 88290.

The class 96 loco has been released in 5 versions to this point in time, but Marklin did not limit the release of a 'mallet' type loco to this class, they also introduced the class 53 in 2007 as Insider Model 88053.

What characterizes a mallet locomotive is first an articulated frame along with two independent wheel sets. Invented by the Swiss engineer Anatole Mallet this type of locomotive was highly successful in mountain railways, and in the United States this loco type was used in coal trains. The articulated frame allowed for negotiating sharp turns while high and low pressure steam powered two sets of driving wheels. The front set of driving wheels form the 'Bissell' truck which received low pressure steam through a receiver after high pressure steam powered the second set of driving wheels first. Variations between European and American 'mallet' locos follow the basic design principle, but each varies by other factors including length and power. Marklin's two mallet designs represent very large and powerful locos one of which never existed beyond blueprints as is the case with versions of the class 53: 88053, 88054, and 88055 (pictured).

To repair the mallet locos of class 96 some patience and practical experience in the repair of mini-club steam locos is required. Marklin Z steam locos have one set of driving wheels, the mallets have two sets and therefore one must treat each as independent by repairing one at a time. These are complicated locos, but they are so well designed that taking one apart and reassembling is relatively easy for those with some experience repairing locos with side rods. Note: wheels must be correctly orientated to allow free movement of side rods, side rods bow out when wheel sets are improperly installed in all locos with side rods.
This post came about rather by accident, I recently purchased an 88291 thereby completing my collection of this type loco, but it arrived with hardened oil syndrome which can be expected with dealer old stock. Tell tale signs of hardened oil syndrome are lights that work without a hum of motor or movement of wheels. The oil Marklin uses will harden over time which is compounded by improper storage. Hardened oil gums up the gears not allowing them to move, it looks like a crust, but it can also be sticky to the touch.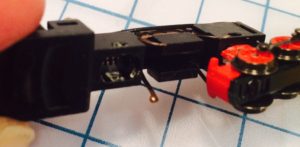 Note: white gunk near center of photo
To remove hardened oil a mild solvent is required, toothpicks work to loosen up crustiness and soaking NON PAINTED surfaces in "Original Windex" (blue). Improperly storing locos includes side down, they should always be stored wheels down. The one I just received was one such example of a loco stored long term on its side: hardened oil pooled on one side throughout gears and truck housings.
One can see the appearance of hardened oil as white crust, it can otherwise be fluid or congealed as a sticky substance all in the same loco: weird!
One gear is sometimes the culprit at least with this example. Part #226 646 is an interesting gear that sits mounted on a post cast into each truck frame of this loco, thus two are included in this design.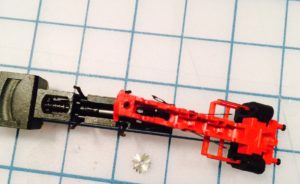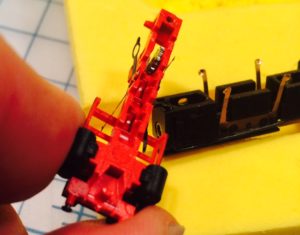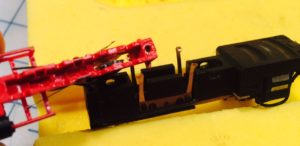 Note: gear can be seen mounted inside truck frame in two photos with yellow background
I have come across this gear on more than one occasion, Marklin's class E 94 and 194 locos including all versions have this same gear in their design so repairing this loco is a good primer for repairing those. Time and time again it has been proven to me that if the German "krocodil" isn't moving this gear is completely stuck due to hardened oil. Very careful attention needs to be applied to wriggle off this gear from its post, I use a toothpick over a dish to catch the part.
The transmission in this loco is very long with two worm gears, it comprises two extensions attached to the the tip of the motor (226 631).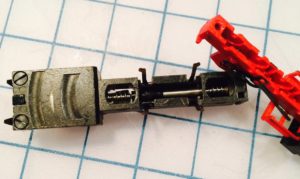 So many parts that are required to move in the smallest space comprise a flawless design that includes a sensible tear-down and reassembly design.
Reassembly includes close adherents to correct order of things: no matter loco type small connecting gears always go in truck frame first followed by driving wheels.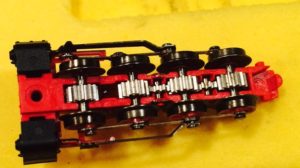 Photo shows one truck's correct assembly without oil pan attached. Note the two connecting gears which are standard with all locos in Marklin 'Z', and because they are small it is a good part to have spares of (part #226 645). Coupler and spring are not illustrated in photo, but they would be located on the right side. Side rods slide into black housing and only work one way: side rods of the third pair of wheels are orientated correctly in photo to allow correct distances in the truck mount for all gears. After coupler and spring are placed into their mount the oil pan slides over coupler end, and it is attached by a single screw.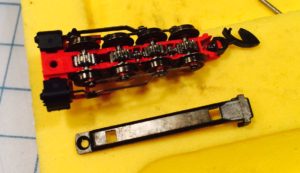 It is always a good idea to keep an inventory of spare parts even though you may never need them because we are talking about the brilliant engineering and manufacturing by Marklin. That being said the motor for this series of locos is part #226 631, it is soldered directly to the pick-ups and solidly held in place to operate the very long transmission.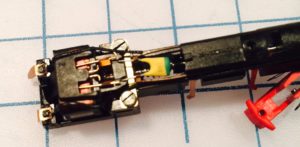 After each truck is cleaned, oiled and reassembled test it to make sure all gears move freely with the retaining pin and nylon gear installed too! Note: the nylon gear comprises two sets of teeth, one set engages with the worm gears on the transmission and the second is small running on one side of the nylon gear and engages with the post mounted gear previously mentioned. Recommendation: the nylon gear is another part to keep spares of, it is part #223 493.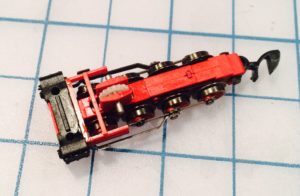 Last note: if you know the loco is new and never run. And you have the loco taken apart, this maybe a good time to break in the motor and brushes independent of the motor's engagement with the gears. Break-in: slow speed followed by medium speed, followed by high speed, and then reverse order. About 5 minutes of varying speeds will do.
Good luck and have fun!
Siding: required tools for repairing Marklin Z locos: pliers with micro tips, magnifying goggles, set of jewelers screwdrivers, foam work cradle, dish for holding parts, and guitar picks can be used to help remove plastic shells or shells without retaining screws.