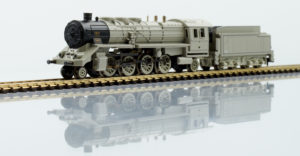 Marklin 88091
We are probably all familiar with builders' photographs of steam engines depicted in black and white photographs and some of us may have had the rare opportunity to buy one. Usually large and well produced photographs depicting a recently built locomotive captioned with all the technical specs and dates of production accompanying such photographs. The commissioned photographers were charged with producing a record in crisp detail for the builders' record as well as publicize locomotives built in their shops. Although the age of steam has passed these photographs help us understand and research the locomotives that were built a 100 years ago, and the incredible achievements and innovations that were made. The photographic record is just part of the research tools available to manufacturers of model trains, but Marklin has treated this part of railroading history as an integral part of Mini-Club's offerings including locomotive prototypes modeled in "Photo Gray" as they would have been seen for the first time.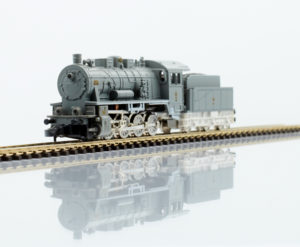 Marklin 88981
Photo gray or works gray is a particularly interesting paint scheme, it seems to coincide with the middle gray zone between highlight and shadow referred in photographic literature as 18% reflectance of the visible world. This being a speculation of mine, my research does not point to an exact paint formula that measures its reflectance, but I would place the reflectance of locomotive photo gray roughly as middle gray if one starts with black on one side and white on the other. Why is this important? It was important from the standpoint of recording as much detail as possible through reduced tones within the range of "low contrast" without dark and light tones. Lighting is also a factor with this discussion, and the photographer's choice between overcast skies or sunny days would have been overcast skies thereby keeping the tonality of these photographs on the flat contrast range. Isolating the locomotive in the composition was also a consideration with few seen near train sheds and yards, manipulating the photographic negative could have achieved this effect as well. For a follow-up post I will be recreating builders' photographs of two mini-club class 52 locomotives, one with photo gray paint scheme and the other painted black. Photo ready locomtives were not dressed in photo gray paint scheme for long, after the photographs were made they were painted in most cases in engine black which was chosen to minimize the appearance and dirt and grime thereby making the photo gray paint scheme a primer coat for the eventual top coat.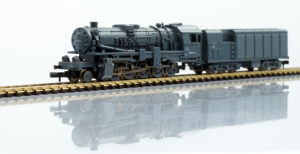 Marklin Z steam locomotives in photo gray: 88040 ("Franco Crosti") – BR 42.90 DB Insider 2003, 88091 – BR P 10 KPEV Insider 2003, 88832 – BR 52 DRG Insider 1997, 88836 – BR 52 DRG, 88841 – BR 50 DRG, 88981 – class G 8.1 KPEV MHI Insider 1998.
Created for photographs, the photo gray paint scheme adorned the first examples of prototypes with some offered in mini-club.