In 1992 a very interesting collectors group was formed in Italy to promote 'Z' gauge railroading: Z Club 92, it later expanded to worldwide membership and featured an annual car for members. These annual offerings included some interesting freight cars that are available on the secondary market, produced in limited numbers these cars have become true collectors' items.
To mark Z Club 92's 10th anniversary a club train was announced in 2002, and the first annual car was released and lettered for the firm MWB Mittelweserbahn GmbH which was founded in 1998 as a rail transport company (Bruchhausen-Vilsen) and later (2013) merged with Elbe-Weser (EVB). The first car released was a low sided flat car with yellow and blue paint scheme which would be the basis for future releases.
In 2004 the release of a former V60 diesel locomotive included shell only, it was delivered in the standard printed Marklin Z carton.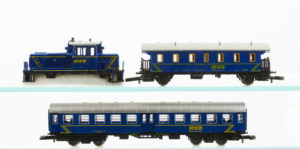 Nine cars and a loco comprise the complete Z Club 92 club train lettered for MWB with the final release in 2008 of a passenger coach.