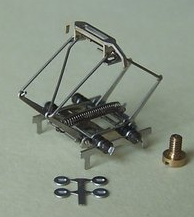 I just received the new FR pantograph for Swiss locomotive types: Ae 6/6 and Re 4/4II, and I immediately installed it on the Marklin 8849 Serie Ae 6/6 electric locomotive; it is even better than I could have expected!
Installation of this part on one of the appropriate Marklin Z locos is a restoration project so to speak, for the first time the correct pantograph can be installed on Swiss locos which originally but incorrectly included the same style pantograph used on German locos. Until now Marklin has offered three styles of pantograph design with variations for a total of 6 different pantographs; they are all installed with a single center screw and furnished with electrical roof equipment of various cast plastic parts.
The FR pantograph is installed with a single center screw of the same diameter as the Marklin one, but simple modifications must be performed including the removal of plastic parts on each side of the original pantograph. If you want to preserve the plastic removal parts simple cut the melt points on the inside of shell: DO NOT USE A SOLDERING IRON TO REMELT THESE POINTS, USE OF AN SOLDERING IRON IN THIS MANNER WILL MORE THAN LIKELY RESULT IN PERMANENTLY DAMAGING THE SHELL BY MELTING IT. I simply pulled these parts off because I had no intention of saving them, each broke into many small pieces.
The pantograph is delivered in a nice plastic box with the screw installed in the pantograph, and a part sheet is included that contains the 4 post caps that are used in the installation. To upgrade one loco you need to buy a pair (2) of these pantographs (FR part #41.490.00). Cost to replace one pair of loco pantographs with the new FR ones is $56 including shipping for USA buyers. No directions are needed or included, but I will provide a few notes:
-First: remove shell from loco and unscrew the pantograph from inside shell
-Second: remove plastic parts from each side of original pantograph mounting on shell
-Third: working over a workbench preferably foam use tweezers to break apart 4 small post caps (part is located below foam insert in plastic box
Fourth: very small post caps are installed over the holes on shell that plastic parts (now removed) were originally engaged with, pantograph legs are inserted through the openings in the post caps, these small parts are precision made but due to their size they are somewhat difficult to work with, I installed the post caps over each of the four holes in alignment with the legs some wriggling of parts occurred before all four legs met up with the post cap holes, place pressure on pantograph top, tip upside down line-up screw in hole and tighten *you will find your own way during installation, use care to not lose parts and perhaps work over a parts collection tray working with one pantograph at a time
Several important advances have been made in Z-scaling including the advent of the 5 pole motor, side rod detailing, can motors and now a new pantograph for two Swiss class locos!
The following Marklin locos can be upgraded to the prototype with this new part: 8829 (Ae 6/6 released 1994-1996), 8849 (Ae 6/6 released 1987-1993), 8850 (Ae 6/6 released 1984-1987), 88501 (Ae 6/6 released 2003-2008), 88591 (Re 4/4II released 2012), 81410 (Ae 610 released 2010), and 81413 (Ae 6/6 released 1998-1999).