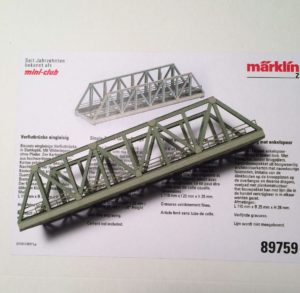 With the new release of a steel girder bridge Marklin has further committed to finely detailed and textured laser cut kits in Z. For those who have been fortunate to discover Archistories kits this one is similarly packaged, but it is not an Archistories kit, the manufacturer of this kit is Modellbau Laffont who have produced other kits recently in the Marklin Z line-up.
For an easy introductory laser cut kit this is a good place to start, it will take about 1 – 2 hours to complete for those with a little experience perhaps longer if this is the first time completing such a kit. A fine OLFA razor knife is perfect, a pair of fine tweezers and common white glue although I prefer NOCH 61104 glue designed for this purpose.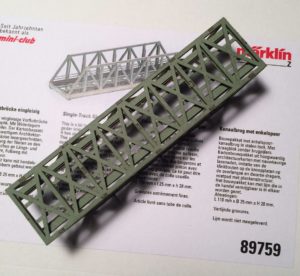 The steel girder railroad bridge is common to all parts of the globe in one form or another because of its high strength and low cost. Usually older bridges are spotted with rust and the general rule is follow a maintenance schedule including repainting this type of bridge periodically to extend the life many years in the future. For a railroad layout a choice can be made to add weathering such as dirt, grime and rust which I will be following up with in a future post.
The bridge kit is loaded with detail including the heavy riveted plates joining angled beams, it also features a wood plank walkway with attached railing. The completed project is a well thought out heavy duty steel bridge that is rigid as a model too.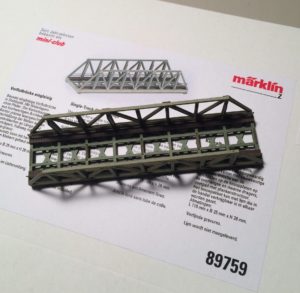 The cost of the bridge is reasonable, I bought mine for $16.00. Overall length is 4 1/4 inches and multiple bridges will be an eye catcher on a layout. Bridge supports will need to be fashioned with some type of masonry either brick or stone, these veneers are easily available, they are glued over cardboard or styrofoam. With its filigree base the light from your locos or coaches will reflect in the river below to spectacular effect.
Good luck and have fun!