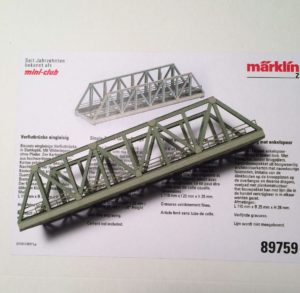 Yesterday I put together the fine new building kit from Marklin: 89759 Girder Bridge. Railroaders know from experience that these rather common bridges get a lot of abuse and neglect from weather, wear and tear from daily heavy train traffic and delayed upkeep. To explore the idea of realism as it goes with these bridges I decided to add weathering to the one I just made.
One new product from Noch is a 2 part rust kit (61162) which incorporates an iron medium that is oxidized by the application of a second solution. The Noch product plus Railroad Colors "Tarnished Black" water based paint will be used in this weathering example.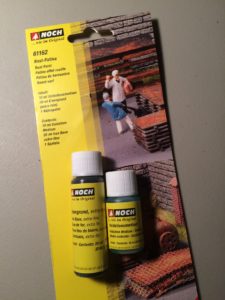 Noch recommends prepping the surface to be rusted with a spray fixative. In the case of paper it is recommended by this modeler, without spray fixative the Noch Rust kit soaks into paper leaving little on the surface to later oxidize. Wet application of paints also leave little flexibility or control as they too will be soaked up in a laser cut building kit, layering of color will thus be difficult. What to do? I recommend a spray fixative which is applied by passing the building through a spray mist of Artists' fixative rather than spraying the model directly. Too much spray fixative will darken the color of the model, it is also unnecessary. Your health will benefit from this small application and don't forget a mask. As for applying paint I recommend the dry brush method which entails saturating a brush with paint and running both sides of the brush over a paper towel until little paint is seen on the paper towel thus allowing a very controlled randomized application. I use dry brush for all weathering techniques, it works to bring out surface engravings in laser cut better than the dab and smear approach with cotton balls recommended by one manufacturer or traditional painting. I also sometimes use paint directly with a small brush to push dirt into hard to reach crevices such as with this bridge.
Railroad bridges lack ornamentation, they are designed to be strong and functional. What a railroad bridge wears on its surface is dirty sticky grime, oil sprays, abrasions from ballast getting kicked up, soot and rust. For a well maintained bridge the rivet heads and plates will have some rust coating eventually while the rest of the bridge will be covered in years of weather and train wear and tear. How far you go with weathering is your choice but keep in mind a fresh painted bridge is rare in the real world. Plants sometimes find their way onto this bridge type along with birds nest and the like.
Photo: before weathering: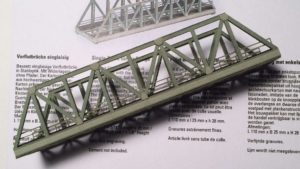 Photos: after weathering:
Note: Railroad Colors make oil and water base paints, I recommend the water base paints due to their dull flat appearance when dry.
Applying Noch Rust is easy, after prepping the surface the first step is applying iron from the large bottle. The manufacturer recommends 2 hours of dry time before the second step applying oxidation from the small bottle. Noch recommends a second application of spray fixative to stop the oxidizing process.
Try the dry brush method of applying paint after the rusting steps are completed. And that's all you need to do.
Note: an assortment of brushes from small to big and flat to round is recommended. I also customize brushes including a cheap natural fiber house painting brush, I like these brushes because their fibers are of all lengths and rough thereby randomizing the application of paint with dry brush. I also cut these brushes to the width I want to work in this case the brush width corresponds to the width of the sides and base.

The number one dealer for innovative Noch products is zscalehobo.com.
Products used in this posting: Noch 61162, Railroad Colors "Tarnished Black" and Marklin 89759 Girder Bridge.
Good luck and have fun!
Siding: if boats travel under your bridge perhaps consider adding a warning light, warning stripes, or signage.