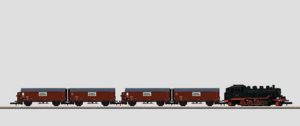 If you happen to own the Z Collection Book from 2015 you may notice this train set cataloged as DB, it is actually an Era II DRG train set. I have poured over this book which is a useful aid in researching Marklin Z and this is the first typo I have noticed.
Produced in 2011 – 2013 this train set included two pairs of GII "Leig-Einhart" Dresden box cars permanently coupled together. Coupled to a class 86 tank locomotive this lightweight train as it is referred formed a goods train in Era II, its development followed the need to procure lightweight trains for fast freight service with speed approved to 100 km/hour. This trainset would last until 1978.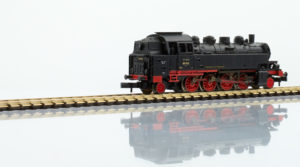 The locomotive at the head of this train is the BR 86 tank locomotive as can be seen in the photos the tanks run either side of the boiler, this design cleverly allowed for some preheating of the water tank at the same time adding stability to the locomotive operation, its limitation was only the amount of coal it could carry.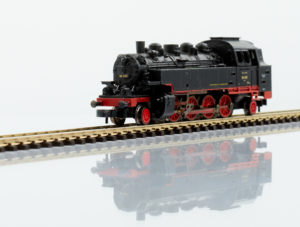 Fifteen years of production starting in 1928 yielded 775 total units for regional and branch line service. One of Germany's longest serving steam locos the class 86 served variously throughout Germany for 60 years.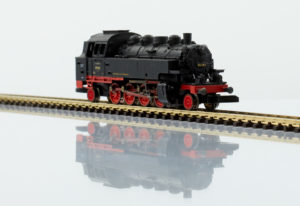 Marklin's 81001 BR 86 locomotive is painted and lettered for Deutsche Reichsbahn-Gesellschaft (DRG), it features a 5 pole motor with 4 pairs of driving wheels and cast metal body with many detail features.
The 81001 train set is sold out at the factory but a recent search shows these to be available through various dealers.
Good luck and have fun!
Siding: an excellent resource for regular production Marklin Z is the 800 page catalog Collection Marklin Z, published by modellplan GbR, 2015. Its author Thomas Zeeb has provided the "go to guide" for collectors of Marklin Z. This number one source was included with the release of the 2015 Toy Fair loco: BR 111 with experimental paint scheme. The book and the loco were delivered in an attractive black box illustrated with its contents. Marklin item number for the set is 88422.