3-D printing is all the rage these days, any manner of thing seems to be offered by this new technology. And now Z items are available through the company Shapeways. I hadn't even thought about searching for such things but a few months ago I came across the Shapeways website. My Wife and I had a day off in some far off land so I had time to check out the 12 pages of Z gauge offerings by a number of designers, and I found it very enjoyable and ordered one. The item I ordered was a German class 701 catenary maintenance locomotive, it arrived packed in a sturdy box by the time we got home from our trip.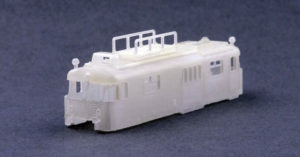 It is interesting to order from Shapeways, items are printed on demand with the disclaimer that the order maybe cancelled if Shapeways feels the item is too delicate to print so presumably not everything is available. The item I ordered was printed, and I am very happy with the finished shell. The plastic is translucent with a slight texture that will take paint well. Because of the translucent material lighting the loco will be disappointing unless a solution is made by masking (later problem to work through).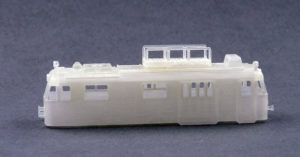 The locomotive came in two parts including the main shell and service platform. Detailing and design is quite excellent including warning beacon lights and roof top observation window. Shell has the same specs as the standard Marklin railbuses so adding a chassis and motor will be easy. A small hole is included in the roof to accommodate the single arm pantograph. Challenges for completing this project include painting and thus masking for three separate painting phases: safety yellow, gray and silver. Note: I find it easier to paint the dark color first inside and outside shell, finishing the roof as the final paint is what I do. Brushing the silver hardware for windows and black paint for buffers plus any touch-ups before following up with the final matte clear coat. Much easier to airbrush using water based paint diluted to flow through the airbrush used. Attaching the work platform permanently with 5 minute epoxy only, but the cool loco is designed for a pivoting work platform secured with a screw.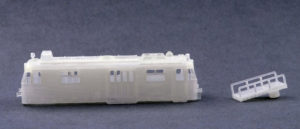 The prototype well depicted by the 3-D printed model as can be seen with two paint schemes by Marklin and Trix, and the roof observation hood as seen in the third photo of the prototype:
photo: Trix N scale class 701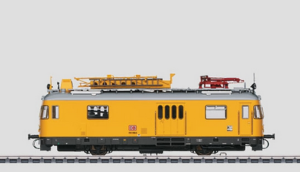 photo: Marklin HO class TVT 6219 Esn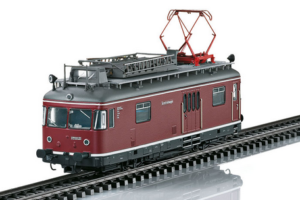 photo: prototype class 701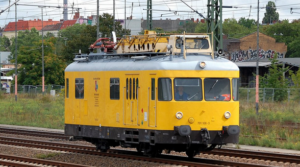 Notes on Shapeways products for Z: many curious items are offered including autos and loads as well as buildings, locos and rolling stock. These are projects that need to be completed and some that are offered will be more successful than others.