Another version of the P8 steam locomotive was released by Marklin in the colorful 88999 for Bad. Stsb. (Grand Ducal Baden State Railways). The model was announced in 2009 in bright Prussian Blue paint scheme with hand painted brass boiler bands, it features a five pole motor and cast metal construction thus providing the weight and ballast for excellent pulling capacity. The P8 in Era I for Bad.Stsb. did not have smoke deflectors installed as with later Era locomotives in this class thus they are not present on this model.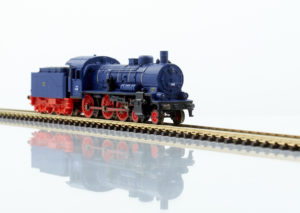 The prototype was built in the years 1906-1923 for a total production of more than 3000, it would prove to be a hugely successful locomotive in service in some cases as long as 5 decades. Prewar P8's were coupled with small capacity tenders whereby post war P8's were coupled with tub style tenders authentically modeled by Marklin in other mini-club locos of this class.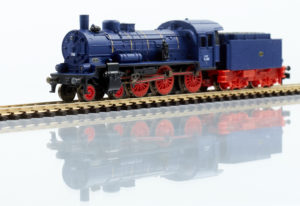 The running performance of all versions of mini-club P8's is outstanding even at low speeds.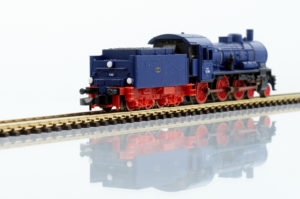 Siding: numerous versions of the P8 exist in the mini-club line up including trainsets, it was even updated with improved side rods, but it still uses the proven 5 pole motor with traditional brushes and armature: brushless motors maybe on the horizon for future versions of the P8, but I hesitate to wholly endorse this improvement.