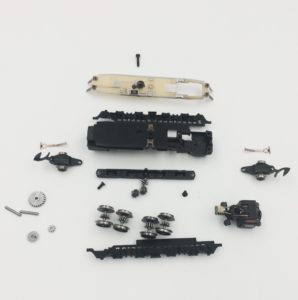 I recently purchased a rare variant of the E 18 electric locomotive in Z by Marklin, it arrived as a used working model, but with a fair amount of dirt and hairs strangling the axles. Cleaning it up included taking it apart and removing the dirt and grime under the hood, but it also included removing excess oil that even found its way under the circuit board. No HOS (hardened oil syndrome) to deal with, but over oiling has its issues including attracting dust and damaging the motor, in this case not much damage occurred to the locomotive.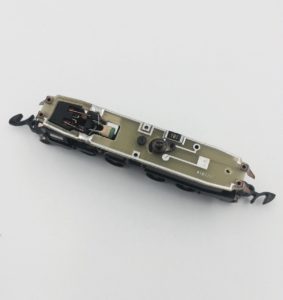 This post is not so much inspired by the normal reporting of mini-club locomotive maintenance instead it is one that was inspired by the brilliant engineering and design of the E 18 for mini-club.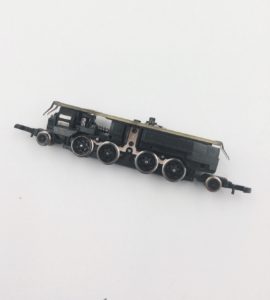 Marklin does not apply the same rules and principles when designing a mini-club loco: same motor and chassis different shell, no Marklin designs each locomotive class from the ground up thereby insuring the prototype is accurate in 1:220 scale and operates as flawlessly as we have all come to expect from mini-club operation!
Marklin 88082: rarest E 18 variant from 2004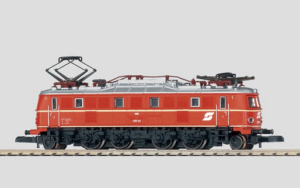 The E 18 is an example of one such mini-club locomotive design that incorporates unique engineering and casting that is also meant to be taken apart and repaired when the need arises.
Taken apart this locomotive has a lot of parts that work flawlessly in the assembled locomotive including two gears that sit on posts within the frame and two large gears allowed to float on their axles.
above photo: right- small metal gear sits on post within frame as well as a second one not pictured, 2 additional gears one synthetic with two sets of gearing sit posts that are inserted through frame body
above photo: left- drive wheels that float on their axles pictured left are assembled in slots on the motor end of frame, two drive wheels right use thinner gears that are permanently fixed in the center of axles which are thicker than floating axles.
The design concept is simple: gather electricity from the wheels by way of a circuit board, the turning worm gear (transmission) on the motor engages with gearing that engages all the way down to the wheels thereby making all wheels drive wheels except for the pilot wheels.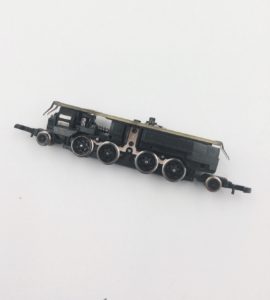 Note: plastic mini-club loco shells are removed without damage with super thin synthetic guitar picks, do not use metal screwdrivers famously illustrated in the Marklin instruction manuals boxed with the locomotives.
With the shell off the cast wheel details are carefully pulled off, they are simply held onto the frame with posts!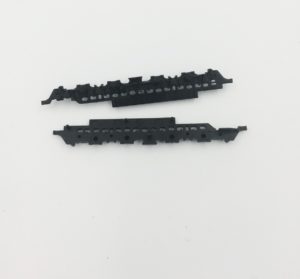 Circuit board is not held under clips as with other locomotives, and one screw is all that is required to hold it in place.
The motor is screwed to the frame with 2 brackets each installed with two screws. Note: if you are at this point in restoration it is advisable to remove the motor and clean the frame under it. It is also a good idea to test the motor out of the frame, inspecting the brushes is also a good idea at this point.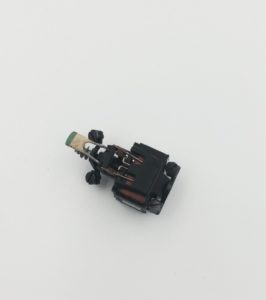 After cleaning all the gears replace in the frame with the two gears on posts first followed by the large gears (2 gears that are designed to float on their axles are installed on the motor side of the frame, thickness of these axles also match the machining on the frame).
Note: use care to prevent bending of the copper leads on sides of frame.
Final steps: clipping on the wheel detail sections and then shell: Voila!!!!!
Variants of the German E 18 in mini-club:
Marklin class E 18 for DB (88080) Era III:
Marklin class 118 for DB (88081) Era IV: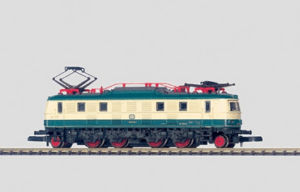 Marklin class 1018 for OBB (88082) Era IV: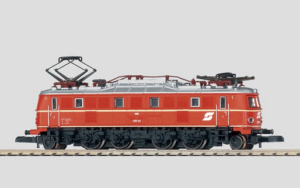 Marklin class E 18 42 for OBB (81441: trainset with coaches) Era III:

Siding: no other Z scale loco is designed to be taken fully apart and easily assembled as mini-club: diesel and electrics are easier than steam and non articulated are easier than articulated.
Siding: all class E 18's are sold out at the factory, but Walthers still has the 81441 trainset available with beautiful green livery and 4 skirted coaches.